Nelya was concerned of her old damaged, fractured, worn out upper front teeth. She always wanted a beautiful brand new smile that she can be proud of. We were able to give her the bright, white, gorgeous smile she always wanted. Her new smile improved her overall self-confidence. Now her smile is more vibrant and she enjoys showing off her new teeth.
Problems
Anterior Open Bite
Bad Bite
Cavities
Crossbite
Damaged Fractured Teeth
Discolored Teeth
Misaligned Teeth
Narrow Upper Arch
Old Faulty Dark Bondings
Old Faulty Fillings
Short Small Teeth
Spaces Between Teeth
Teeth Not Proportional
Tooth Decay
Uneven Smile
Worn-Out Smile
Solutions
Porcelain Crowns
Porcelain Veneers
Tooth-Colored Fillings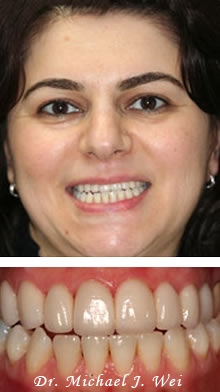 Slide the blue tab to the left or right to view the before and after images.