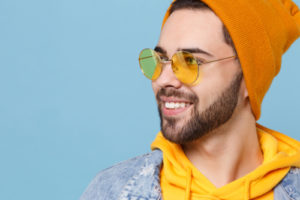 You may want porcelain veneers for your teeth, but there is one important question to answer: Are veneers right for your smile makeover? Veneers are an excellent smile upgrade for many people, but you want to make sure you're a good candidate for veneers. Start with an in-person consultation or smile virtual consult to determine whether veneers are right for you, and ask yourself the following questions too.
Do you want a broader smile?
If you covet the smiles of celebrities and journalists that are full of beautiful, white teeth, what you may be wanting most is their broad smiles. When you have teeth that are out of proportion – meaning, the canines or pre-molars are situated behind the teeth in front of them – your smile can look crowded or small and you will have dark space filling the corners of your mouth instead of teeth.
Veneers optimize your smile for size – that includes width, length, shape, thickness, and alignment – building out your smile until it is proportional and attractive. It's hard to get the same kind of smile makeover from anything but veneers.
Are your teeth crooked?
There are multiple solutions for crooked teeth – the question is, do you want only a cosmetic fix or something that goes deeper? If you've never wanted braces or Invisalign and dislike even the idea of them, then veneers could certainly be the right option to correct your crooked teeth.
Veneers are carefully customized to fit over each tooth and shield every bit of misalignment, building your smile into a straight, smooth, perfectly aligned one. Instead of months or even years of orthodontic treatment, you could have a smile makeover in two visits to your Midtown cosmetic dentist.
Do you have small teeth?
Short or small teeth can make you look like you're still sporting baby teeth and create a juvenile appearance. You may be dealing with an entire mouth of small teeth, or you may have one or two pesky teeth that are marring your entire smile. Either way, your teeth are drawing attention to themselves, and not in the best way.
Porcelain veneers can conceal the imperfections, creating teeth of just the right shape and size to flatter and complement your appearance. Each veneer is carefully designed to be natural-looking in length, width, size, shape, and color. They're not too big or too small – they're just right, and you can get just a few or an entire smile upgrade.
Do you have tetracycline stains?
Tetracycline stains are caused by antibiotic use as a child, where the drug has calcified in the tooth and changed its color, permanently. This issue happens under the gumline and affects permanent teeth while they are still forming and have not yet erupted, so it's a problem that you live with as a child and into adulthood – until you take it upon yourself to change things.
Professional teeth whitening is powerful, but it's not strong enough to bleach away tetracycline stains. Veneers can, however, eliminate any sign of a stain, for good.
Find out whether porcelain veneers are right for your smile. Contact Dr. Michael J. Wei at his Madison Avenue dental office to schedule your consultation.