Cosmetic Tooth Bonding for Fast, Affordable Repairs
By Dr. Michael J. Wei, DDS – Manhattan New York City Cosmetic Dentist
Cosmetic tooth bonding is a fast and economical method for repairing damaged teeth. Simpler than a crown or veneer but just as effective in correcting minor chips and discoloration as other types of cosmetic dentistry, bonding can often be completed in just one visit to Dr. Michael J. Wei, Midtown Manhattan cosmetic dentist.
What Problems Does Cosmetic Tooth Bonding Fix?
A minimally invasive cosmetic dentistry technique, cosmetic tooth bonding is incredibly versatile. This treatment is used to repair teeth that are:
Gapped
Chipped
Jagged
Discolored
Cracked
Fractured
Decayed
Oddly shaped
This simple procedure corrects the complaints that can mar an otherwise beautiful smile. Some people believe they must live with slightly pointy teeth, teeth of uneven sizes, tooth gaps, or short teeth. However, cosmetic tooth bonding makes it possible to completely correct the complaints you have about your smile.
Teeth can be lengthened, bonding can serve as an alternative for amalgam fillings, and in some cases bonding can be used to protect the exposed roots of a tooth that is developing gum recession. Whatever the reason for choosing cosmetic tooth bonding, the results are teeth that are the same shape, size, and color and, above all, flattering.
How Is Cosmetic Tooth Bonding Applied?
Even though cosmetic tooth bonding is a multi-step process, it typically only takes one visit to the dentist to complete. The actual bonding procedure takes about 30 minutes to one hour per tooth.
Preparation: The surface of the problem tooth is roughened then receives a conditioning solution.
Application: A tooth-colored resin that matches the color of the other teeth is applied in the area where tooth structure must be replaced or the damaged tooth needs to be corrected.
Sculpting: The resin is cured and hardened with a special light so it bonds to the tooth. The area is carefully sculpted to blend in with the color and shape of the other teeth.
Polishing: The newly reconstructed tooth is polished until it shines.
Cosmetic tooth bonding repairs teeth so that they look natural. Done by a talented Midtown Manhattan dentist, the bonding is unnoticeable and your smile is complete.
Who Should Choose Cosmetic Tooth Bonding?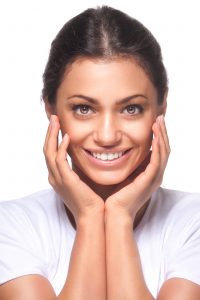 Many patients prefer tooth bonding to any other type of corrective, cosmetic, or restorative dentistry repair because of the cost and the speed with which the repair can be made.
Bonding is indeed more affordable than other treatments, but it is important to remember that repairs like porcelain veneers or porcelain crowns last much longer and have incredible durability. Bonding can last anywhere from three to 10 years before requiring a touch-up or complete replacement. For many patients, this length of time is satisfactory.
Depending on the condition of your tooth, and the reason it requires a repair, your dentist will make recommendations about the best solution for your smile. Be open to all types of repairs so that you opt for the most economical solution over the long term.
The goal, no matter the situation, is to recreate a robust, functional, and aesthetically pleasing tooth that does not look any different than the rest of your teeth. Your dentist will work on each tooth as though it is a small piece of art, giving it the attention it deserves so it blends in with your smile and is comfortable.
If you have a problem tooth in need of more tooth structure, cosmetic tooth bonding can be the versatile and affordable solution you've been hoping for. Make an appointment with Midtown Manhattan cosmetic dentist Dr. Michael J. Wei to find out what cosmetic dentistry repair is right for your smile makeover.