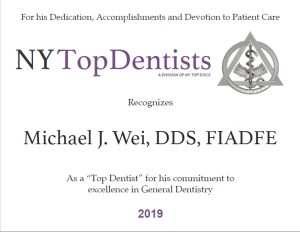 Madison Avenue in the heart of New York City is home to the Manhattan cosmetic dentistry practice of the 2019 New York Top Dentist, Dr. Michael J. Wei. USA Top Docs, through their Top Dentist Division, has bestowed this honor upon Dr. Wei for his experience, expertise, and achievements in dentistry. Recognized in Midtown and throughout the nation by his peers and patients, Dr. Wei is exceptionally honored to again receive this merit-based award.
Qualifying to Be a New York Top Dentist
The honor of New York Top Dentist is given to professionals who have solidly earned the title and offer proof of this achievement. Doctors do not and cannot pay for this recognition.
An extensive vetting system is used to review each applicant and includes the submission of a comprehensive qualification questionnaire and an in-depth screening process. Board certification is required, malpractice and license are reviewed, and standards must be met for the minimum number of years in practice.
Patient reviews weigh heavily as dentists are considered for this award. Dr. Wei is beloved among his NYC patients who have benefitted from his expertise and concern for their oral health and smile goals. Hundreds of patients have left his office with new smiles, renewed happiness, and amazing confidence in their appearance.
Comprehensive Dental Care from Manhattan Top Dentist
Dr. Wei has earned his status as a top dentist by focusing on improving his skills and learning new techniques through continuing education. He regularly pursues and completes advanced training from respected global dental institutions, an effort that allows him to offer a comprehensive menu of dental treatments and care, including cosmetic dentistry, restorative dentistry, and general dentistry.
Some of Dr. Wei's most popular procedures include:
Porcelain veneers: Veneers conceal all types of cosmetic complaints, from chips to stains to gaps to misalignment. Multiple problems disappear at one time, making this an attractive way to get a smile makeover that makes you look like a VIP.
Cosmetic tooth bonding: A fast, non-invasive way of correcting minor imperfections, cosmetic tooth bonding completes smiles quickly and easily.
Full-mouth reconstruction: Patients who have broken-down smiles in appearance and function can transform how they feel and look with customized full-mouth reconstruction.
Smile makeovers: When you want your smile to look better and your teeth to work better, a smile makeover allows you to upgrade your teeth for a perfect, natural-looking smile.
Contact Your New York Top Dentist for an Appointment
Dr. Wei shares his New York Top Dentist honor with his dedicated and impressive team. He thanks his entire staff for their talent and commitment to patient care that is essential making their practice the best in New York.
Make an appointment with Dr. Michael J. Wei at his cosmetic dentistry practice on Madison Avenue to get top dental care from a top dentist. Transform your life with a beautiful new smile.