Invisalign Clear Braces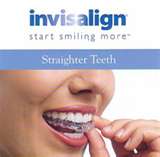 As an adult, you're interested in looking your best. If your smile's front teeth are misaligned, you may have considered braces. But the metal wires and bulky brackets would detract from your sophisticated image – maybe for a few years. Manhattan Cosmetic dentist Dr. Wei is certified in Invisalign clear braces, so now you can enjoy the straight smile you've always wanted without having to wear traditional metal braces.
Dr. Wei uses 3D imaging to capture information about your teeth and bite. Then, he creates your Invisalign orthodontic plan and sends out for your custom series of acrylic aligners. Wear each aligner for about two weeks, then move into the next. Therapy is generally shorter than traditional orthodontics. Most patients undergo Invisalign for about a year.
Clear aligners make your "braces" practically invisible. With the convenience of a removable appliance, Invisalign can be removed for your cleaning routines, when eating, or for special occasions. You'll need to visit Dr. Wei about every four – six weeks so that he can check your progress. No wires, bands, or adjustment visits are required!
How Invisalign Braces Work:
These videos will show the benefits of Invisalign braces.
Invisalign Braces Offer You Many Benefits:
"Invisible" — Invisalign braces are made of clear plastic "Invisible" aligners so they're not as noticeable as metal braces. You won't look like a "metal mouth and in fact most people won't even know you're wearing them! You won't need to hold back your smile or feel self-conscious about wearing braces anymore with Invisalign braces.
Faster! — In most cases your Invisalign braces will straighten your teeth in less time than traditional metal braces… which means you can quit wearing your braces much sooner than with metal braces!
Affordable — In most cases, Invisalign braces cost less than traditional metal braces. Plus, our easy financing options make them easy for you to afford.
Comfortable — Invisalign braces use plastic aligners which offer you a smooth surface that is gentle on your mouth so you won't feel any pain or pinching. They won't irritate your cheeks or gums like traditional metal braces so you'll be comfortable all day and while you sleep.
Removable — Invisalign braces are removable so you can take them out while you eat, brush or floss your teeth, or during those special occasions when you don't want to wear your braces. Invisalign braces give you more flexibility in your daily life than metal braces.
Invisalign Works — Whether you have gaps, crowding, crooked teeth, "buck teeth" — you name it, Invisalign braces can handle it.
Call to schedule your consultation with restorative and cosmetic dentist, Dr. Wei. Many of our patients live and work in Midtown Manhattan, while others come from Astoria, Weehawken, and Long Island City.