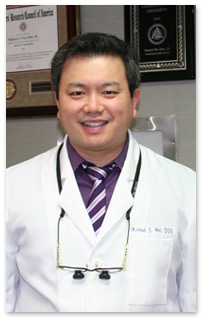 At Dr. Michael J. Wei's Midtown Manhattan dental office, patients can depend on comfort and clinical expertise for a sensational smile care experience. We understand the importance of both time and smiles, so we have dedicated our careers to creating a sensational, personalized dental experience built on a standard of efficiency and dependability for each of our patients.
To start, we see patients on time and we finish treatment on time, so you can schedule dentistry into your life, instead of scheduling your life around dentistry. Each of our team members is trained to provide excellent service, from the front desk, to our private consultation room, to our state-of-the-art operatories.
In addition to general dentistry, like checkups and gentle cleanings, Dr. Michael J. Wei offers the latest cosmetic dentistry enhancements, such as teeth whitening, porcelain veneers, porcelain crowns, cerinate lumineers, smile makeovers, cosmetic tooth bondings, invisalign clear braces, and lifelike dental implants for discerning, sophisticated adults.
Convenient Location
Providing Quality General and Cosmetic Dentistry in Midtown Manhattan
You deserve dentistry that suits your lifestyle and your schedule. Located on 425 Madison Ave., near the corner of 49th Street and Madison, we serve patients who work or live near Midtown Manhattan or Central Park, as well as those from Astoria, Weehawken, and Long Island City. Call the New York dental office of Dr. Wei today to schedule your private consultation, and explore this site to learn more about how we have designed a dental experience to complement your lifestyle.
When you visit our Manhattan dental office, expect to be treated with care by our friendly, welcoming team. We are here to help you every step of the way, from your first call to all follow-up and recall visits. If you have questions about any aspect of your treatment plan, clinical or financial, please ask.
We're prepared to give you answers you can understand. Our clinical team assists Dr. Wei by offering chairside assistance and hygiene care. The entire team undergoes training each year so that we can provide optimal dental care and customer service to you and your family. We are committed to your comfort, and we respect your time. If we can make your dental experience better in any way, let us know.
Dr. Wei and our team invest in many hours of continuing education each year, so we bring our Manhattan patients the best that modern dentistry has to offer. From spacious treatment rooms equipped with cutting-edge technology, to services that employ restorative and esthetic foundations, at Dr. Wei's Midtown Manhattan dental office, you'll find all of the professional smile care you want, delivered with the care and compassion that you deserve.
Technology & Patient Comforts
When you visit Dr. Michael J. Wei's Midtown Manhattan dental office, you'll feel like a treasured guest. We offer coffee, tea, and juice in our beverage bar, apples, and sugar- free candies. Aromatic candles create a welcoming ambiance of tranquility and relaxation. In the treatment room, you can watch a movie or listen to music with noise-canceling Bose headphones. Ask for a warm neck pillow to make yourself even more cozy during your time in the dental chair. And before you leave, be sure to freshen up with a warm, scented towel.
Dr. Michael J. Wei and our team have invested in the training and experience to bring our Midtown Manhattan patients many state-of-the-art dental technologies and comforts. These include intraoral cameras and chairside monitors for convenient viewing and accurate diagnoses. Intraoral cameras allow us to project an image of an individual tooth or area of concern onto a chairside viewing monitor for use as a visual aid. Digital imaging allows us to show you what your new smile could look like before you commit to treatment. We'll take digital X-rays for a comprehensive view of your teeth and supporting structures. Digital X-rays emit about 90% less radiation than traditional radiography, and the images can be quickly and easily transmitted via the Internet to insurance companies and specialists. Furthermore, we use an electric hand piece, which produces less noise and heat than a traditional dental drill.
We offer nitrous oxide, better known as laughing gas. As a sedation dentist, Dr. Wei can prescribe oral medication to make patients  completely relax during treatment. We have recently introduced the STA system into our practice which will help those patients who are fearful of injections. The STA system is a computer controlled local anesthetic delivery system. It is an innovative, clinically proven way to achieve more precise and pain-free injections. This results in higher patient comfort levels.
The Midwest I.D. handpiece is a high tech aid in identifying cavities in molars and pre-molars. This special handpiece is recommended for detection of cavities in pits and fissures and interproximal areas on posterior teeth that have not been restored.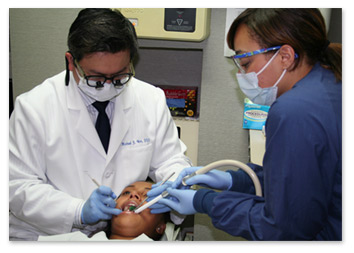 Modern Technology
Intraoral Camera
Chairside Monitor/Computer
DVD players with Bose Headphones
Digital Imaging
Dexis Digital X-rays
Electric Handpieces
Nitrous Oxide (Laughing Gas)
Laser
STA system
Midwest Caries I.D.
Cinemizer Movie Glasses
NuCalm
Benefits of Going to Dr. Michael Wei:
Your comfort is our first concern
Friendly, caring staff
Quality, individualized care
Thorough checkups
Emergencies welcome
Most dental insurance plans accepted
Free smile analysis
Second opinions given (Free Consultation)
Variety of payment options available ( 12-24 months interest free financing available)
Dr. Michael J. Wei had the distinct honor of being voted one of America's Top Dentists in 2005, 2006, 2007, 2008, 2009, 2010, 2011, 2012, 2013, 2014, 2015 and 2016 by the Consumer's Research Council of America.
Find out why our patients love us. See what our happy patients have to say about our quality dental services and personalized dental care. Read our reviews online at Google, Yelp, Citysearch, SmileReminder, and Facebook.
"He genuinely cares about your fears and concerns and takes his time to make you feel calm and explains in detail what is needed. Dr. Wei is someone you can trust which is hard to find in New York City."~ Daniel Donahue
Why Choose Dr. Wei?
A Proven Dentist – Dr. Wei is one of Manhattan's top cosmetic dentists. Dr. Wei's cosmetic dentistry includes world-class laboratory support from the best labs in the world. Dr.Wei is the recipient of numerous awards and accolades.
High Success Rate – Dr. Wei has over 17 years of experience with dental services. Plus, Dr. Wei stands behind his work with a warranty.
Delivery Excellent Results – Dr. Wei has first class technicians and world-class laboratory support. Dr. Wei works very closely with his master dental technicians to ensure you get the best results. Dr. Wei offers the very best quality dental care available.
Easy Financing Available with No Financial Surprises – All financial arrangements are done at our dental office and there will no surprises that cost you more. No hidden costs and no additions after your treatment plan is confirmed and treatment begins.
Fully Warranted – – Dr. Wei will take care of any issues from start to finish. On the rare occasion that a problem should occur, Dr. Wei will fix the problem promptly with no additional fees.
There is usually a follow-up visit for final adjustments, and to review instructions for care of your new smile. Cosmetic dentistry provides a beautiful new smile and last for years and years.
Call us for an appointment:
212-982-4080