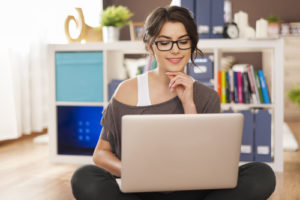 Once upon a time, people would cut out pictures from magazines if they were thinking about changing their hair, redecorating a room, or coveting certain products. Now, there is Pinterest, the social media platform that invites you to "clip" your favorite photos, articles, and products online and keep them in albums. So why not create a safe space for the soon-to-be-new you? Use this free software to save the images of the teeth you love – and essentially create a collage of the teeth you want. Time to think about what your smile makeover Pinterest board should include.
How Many Pinterest Boards Do You Need?
The beauty of Pinterest is that you can create as many boards as you want, including secret ones so you don't have to share with anyone that you're thinking about getting a smile makeover. Want to skip social media entirely? Just take screen captures of your favorite images and save them in an album on your phone.
The goal, ultimately, is to have a series of photos to share with your NYC cosmetic dentist so he can see the characteristics of smiles that attract you and make suggestions about what's possible for your smile and what would look best.
So, there really is no magic number of boards. You could have one for porcelain veneers and one for Invisalign, one for restorative dentistry and one for cosmetic dentistry, or you could just have one space where you can look at a ton of beautiful smiles and dream of the one that is coming your way.
What Should Be On Your Vision Boards?
To paint a complete picture for your dentist of the kind of smile makeover you want, and to collect your thoughts in one place so you can really see the teeth that you want, it's a good idea to Pin images from a variety of sources:
Entertainment sites: Love that photo of Meghan Markle, Denzel Washington, or Julia Roberts? Pin it!
Lifestyle magazine pages: See a regular mom like you, a working woman like you, an exercise fanatic like you, an adventurer like you? Pin the photos of real people and their real smiles.
Your dentist's website: Look through your Midtown cosmetic dentist's smile gallery and Pin any smile makeovers that you're especially drawn to.
Health sites: Read an article about the importance of changing amalgam fillings to composite fillings and have concerns? Pin it. Come across an article about the possibilities for dental implants instead of dentures? Pin it.
Your Pinterest board is a photo album and it is also an archive for information, details, questions, concerns, and curiosities.
Moving from Pinterest to Reality
The only problem with Pinterest is that many people make a hobby of collecting photos of the things they want – then they never do anything about it. If you've gotten this far, let your social media platform take you to reality. Grab your phone, schedule a consultation with your Midtown cosmetic dentist Dr. Michael J. Wei, and show him your smile makeover Pinterest board.
Still aren't ready to go offline? Submit a Smile Virtual form and get a video message from Dr. Wei in return detailing what's right for your smile. Contact our Madison Avenue dental office today to learn more.