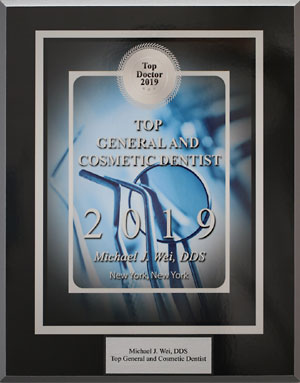 Midtown Manhattan general and cosmetic dentist Dr. Michael J. Wei has been named Top General and Cosmetic Dentist by the Top Doctor Awards for 2019. This honor recognizes the accomplishments of the most influential and esteemed dentists and doctors and reinforces the importance of seeking out a dentist who can certifiably give you a healthy, beautiful smile.
Why You Need a Top General Dentist in Manhattan
An exam, oral cancer screening, review of x-rays, and thorough teeth cleaning every six months gives you healthy teeth and gums. Keeping up with regular dental visits ensures that your teeth and gums are well cared for and any problems that may be lurking are identified and addressed quickly. Even if you are diligent about brushing and flossing at home, professional attention to your oral health is essential.
After all, nothing can be built upon a weak foundation. This applies to teeth too. If your oral health is in jeopardy, it will be impossible to use cosmetic dentistry to upgrade your smile. Even if your teeth are in serious disrepair, they can be fixed – but you must start with the basics to get the smile makeover you want. A top NYC dentist like Dr. Wei will get you to that place of healthy teeth and gums with general dentistry treatment, giving you teeth that are ready for cosmetic dentistry.
The Importance of Seeing a Top Midtown Cosmetic Dentist
All cosmetic dentists are not created equal. While Manhattan is a great place to find multiple options for everything you need, you only want the best when it comes to improving your smile.
Dr. Wei has cemented his reputation as a respected and talented Midtown cosmetic dentist, creating smile makeovers every day and changing lives. Some of his most requested procedures include:
Prepless veneers: All veneers are designed to cover up original teeth and perfect them in shape, size, color, and length. Some veneers, however, are designed to conceal imperfections in a non-invasiveness. Prepless veneers fit into this category. Mastering prepless veneers has allowed Dr. Wei to treat countless patients who want a flawless smile makeover without altering the appearance and substance of their natural teeth underneath.
Full-mouth reconstruction: Many people may not want to admit that they need serious dental intervention to fix their teeth, but if you're in pain, your teeth are loose, or your teeth look unsightly, you're going to need more than a brushing or teeth whitening to correct what's broken. Full-mouth reconstruction addresses all areas of your oral health, and Dr. Wei uses the appropriate restorative dentistry, cosmetic dentistry, and neuromuscular dentistry procedures to give you a strong, healthy smile – and then a beautiful one.
Smile makeovers: Every smile makeover is different. One patient may want a teeth whitening to brighten their smile, another may want Invisalign to finally get their teeth and jaw in alignment, another may want cosmetic tooth bonding for a quick and long-lasting repair. The combinations of cosmetic dentistry procedures is endless, but they all add up to one thing – a customized smile makeover that makes you look better, younger, happier, and healthier.
Make an Appointment with a Top NYC Dentist
A top dentist is an artist, someone who understands the nuances of changing a person's teeth, who improves smiles by considering the musculature of the face, skin color, face shape, and more. Top dentistry is about teeth, but it's also about perspective, experience, and a stellar track record.
If you're ready to put your teeth first, schedule an appointment with Dr. Michael J. Wei today at his top dentist office in Midtown Manhattan.