Choose Professional Teeth Whitening for a Healthy, Bright Smile
By Dr. Michael J. Wei, DDS – Manhattan New York City Cosmetic Dentist
When your teeth are white, you look healthier, happier, and more attractive. Some people even assume your white teeth are an indication of great wealth. These are all desirable traits, especially in Manhattan. In just one hour, a professional teeth whitening treatment from Midtown cosmetic dentist Dr. Michael J. Wei can turn your smile into a stunning accessory.
Professional Teeth Whitening Benefits
Teeth don't have to be perfect to qualify for a whitening treatment – misaligned or gapped teeth will be improved tenfold when they're whiter and healthier looking. Professional teeth whitening can work for just about every dental patient if the foundation of your smile is healthy and your natural teeth are free of cavities and gum disease.
Teeth whitening is one of the most popular cosmetic dentistry procedures for a variety of reasons:
Non-invasive
Painless
Safe
Fast
Immediate results
Long-lasting
Dramatic results
More effective than DIY methods
The benefits of teeth whitening completed at your Manhattan dentist's office far outweigh any efforts you might trying DIY whitening at home. The risk of user error is eliminated with professional teeth whitening, and you can be sure to receive an even and natural-looking whitening treatment that does not damage your enamel or irritate your gums. If you still prefer to whiten on your own time, a take-home whitening option – containing the necessary whitening agents that you won't find in your local drugstore – provided by your cosmetic dentist will provide the same amazing results as an in-office treatment.
Understanding Your Tooth Stains
Teeth endure a lot of abuse day after day. They work hard and encounter many unfriendly foods, beverages, and other substances (like nicotine) that can alter their color. Some of the most common causes of tooth stains and discoloration include:
Medications
Diet
Poor oral hygiene
Dark beverages
Acidic foods
Smoking
Genetics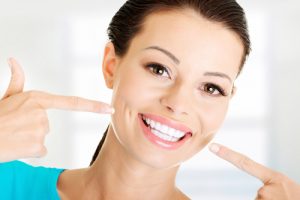 The source of your tooth stains is important, but the biggest concern of your Manhattan cosmetic dentist is the type of tooth stains you're sporting. In some cases, a professional teeth whitening treatment will not be a viable solution.
There are two types of tooth stains: intrinsic and extrinsic. If your stains are inside your tooth – intrinsic – the whitening agents will not penetrate the discoloration. Aging, antibiotics, and thin tooth enamel are all potential causes of yellowish-looking teeth. You still have options to enhance your smile, however. Even when whitening might not be an option, solutions like porcelain veneers and Cerinate Lumineers are available.
Stains on the surface of your teeth – extrinsic – will almost always respond to powerful teeth whitening treatments. The acidity in the foods and drinks that you enjoy (especially if they are dark in color, like coffee and wine) do quite a number on tooth enamel, eroding it over time. This consequence makes teeth more likely to develop stains, especially if you aren't keeping up with preventive care at home and regular dental exams and check-ups. Professional teeth whitening can rid your teeth of these unsightly stains.
Choose Professional Whitening for a Fast and Long-Lasting Fix
Don't fall for quick fixes when it comes to treating your teeth. A one-hour teeth whitening treatment in your Manhattan dentist's office is the fastest route you should be taking to change the appearance of your teeth.
By having your teeth whitened by a professional, you avoid problems that could occur, like uneven whitening (especially if you have any cosmetic dentistry like veneers, crowns, bonding, or tooth-colored fillings). Plus, the powerful whitening agents of hydrogen peroxide and carbamide peroxide are the ingredients that really get the whitening job done – and you won't find those in over-the-counter whitening products.
Don't take the risk of damaging your enamel or irritating your gums with unverified whitening items or fad whitening like using charcoal or strawberry pulp. While some "natural" solutions might work temporarily to brighten your smile, all they are doing is removing the surface accumulation of plaque. Rembrandt Sapphire Teeth Whitening, KOR Whitening, or Opalescence PF Whitening from Ultradent applied by your Midtown cosmetic dentist remove stain molecules from deep down in your teeth so your smile is white and stunning for a very long time.
Get comfortable at our practice. Make your appointment today to talk about a customized teeth whitening solution with Dr. Wei. In just one hour you can elevate your appearance and completely alter your outlook on life.