Modern Dentures: The Comfortable, Secure Replacement for Missing Teeth
By Dr. Michael J. Wei, DDS – Manhattan New York City Cosmetic Dentist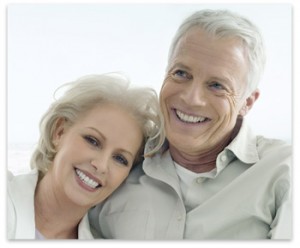 When you are missing many or all your teeth in your top or bottom jaw, modern dentures offer a complete, secure solution. New York City restorative dentist Dr. Michael J. Wei offers full dentures and partial dentures, which can be paired with adhesive, clasps, or dental implants.
Modern Dentures Are a Viable Solution for Missing Teeth
Over 33 million Americans have lost all their upper or lower teeth. If you are part of this group, there is no need to suffer with missing teeth. Dentures have come a long way from decades ago and are a natural-looking solution that will restore your confidence and the functionality of your smile.
When you are missing teeth, you will look older than you are. The lack of teeth affects the shape and plumpness of your lips and cheeks, causing them to sink in on themselves, creating a shrunken, aged appearance. Missing teeth also prevent you from eating and speaking properly. Giving your mouth teeth again ensures that you can eat the foods you want and express yourself clearly while feeling great about your smile.
Types of Dentures
There are many options to replace missing teeth, though removable dentures are typically the most affordable. The final product of your dentures depends on the artistry and skill of your Midtown Manhattan dentist. Dr. Wei is extremely experienced in denture work, creating authentic-looking smiles for his patients. The porcelain false teeth in a denture are attached to a gum-colored base which can be held in place by adhesive, clasps, or dental implants.
There are three types of dentures, and Dr. Wei will help you determine which type of prosthetic is best for your unique situation:
Full Dentures: Full dentures replace an entire arch of teeth, giving you a more youthful appearance as your face regains support. Some patients do experience disadvantages with full dentures, including gradual bone loss over time caused by the pressure the dentures put on the gums and bony ridges of the mouth. Full dentures can sometimes be unstable, particularly if you have a lower denture which can be moved out of place by your tongue.
Overdentures: Overdentures can be supported by your natural teeth or dental implants. Both options provide increased stability of the dentures and prevents the dentures from slipping. By taking the pressure off the bony ridges of the mouth, overdentures help maintain bone volume. If you are considering overdentures for your lower jaw, typically only two dental implants are needed. An upper denture will require at least four implants to keep the prosthetic teeth in place.
Partial Dentures: A removable partial denture replaces many missing teeth by fitting together like a puzzle piece and being fitted to existing teeth using clasps, a restoration that can be very stable. It is easy to keep the partial denture and prosthetic teeth clean because they are removable, but the denture can shift which allows room for food to gather beneath the dentures. Over time, the teeth that are supporting the dentures can loosen slightly.
There are pros and cons to every dentures solution, though many patients do prefer the most solid and reliable option available to minimize the chance of embarrassing dental snafus in public. Dentures supported by dental implants or dental implants alone are some of the most secure options for missing teeth.
The Denture Procedure
Dentures typically require several appointments over a several weeks to complete treatment. Once you and Dr. Wei have decided upon the best type of denture for your oral health needs, impressions and measurements of your mouth are taken so that your New York City restorative dentist can create your customized denture.
There will be dental appointments needed to confirm that your dentures are correct in size, shape, color, and – most importantly – fit. This is your opportunity to voice any concerns you have about how the dentures look or feel. If something isn't right or doesn't feel comfortable, speak up. Your dentures should always work and feel like a natural part of your smile, so that you are confident when you smile, speak, and eat.
The final denture appointment will include the placement and adjustment of the finished denture. He will confirm that the denture fits snugly, feels comfortable, and looks natural. There will be an adjustment period upon first wearing the denture – this is to be expected, especially if you have been without teeth for some time.
Find Out If Dentures Are Your Smile Makeover Solution
Whether you need dentures because of age, gum disease, decay, trauma, or otherwise, our New York City dental office is the place to visit for your consultation with Dr. Michael J. Wei. Restorative and cosmetic dentist in Midtown Manhattan, Dr. Wei will provide his patients with the most appropriate restoration for their smile makeover needs. Contact us to schedule your appointment and get on the path to a secure, complete, and beautiful smile. We serve Manhattan residents and commuters, as well as patients from Long Island City, Astoria, Weekhawken, and more.