Nathan came to me because he was unhappy with his smile. He was getting married very soon and wanted to improve his smile. He had a lot of gaps between his teeth. His teeth were also rotated, dark, and discolored. I was able to do laser gum recontouring and gave him 10 minimum prep porcelain veneers. I got him ready just in time for his wedding! He loves his final smile transformation and gets lots of compliments from family, friends, and co-workers.
Problems
Crooked Teeth
Discolored Teeth
Flared Out Teeth
Midline Off
Misaligned Teeth
Rotated Tooth
Spaces Between Teeth
Teeth Not Proportional
Tooth In Wrong Position
Uneven Smile
Worn-Out Smile
Solutions
Laser Gum Reshaping
Porcelain Veneers
Smile Makeover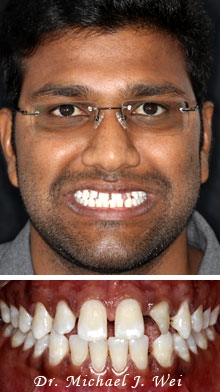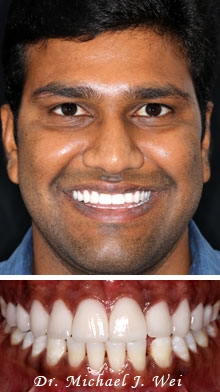 Slide the blue tab to the left or right to view the before and after images.