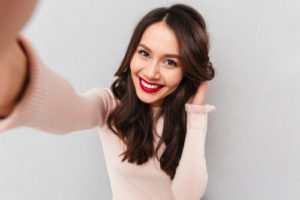 You want to change your smile, but you just don't have the time to make it to your cosmetic dentist's office to talk about the possibilities right now. When your obligations and schedule are getting in the way of upgrading your smile, take advantage of the next best thing: a virtual visit with your Manhattan cosmetic dentist. Through a Smile Virtual consultation, you can find out what it will take to change your smile, and help you get ready for this life-changing move.
Get a Personalized Smile Makeover Consultation Online
The internet, of course, can help you just about do anything – including find out what cosmetic dentistry procedures are right for you. Instead of just reading and scrolling through other peoples' photos though, you can find out what's right for you and you alone.
Through Smile Virtual, you can get the answers you want about how your smile can be better, and the process is easy thanks to one online form.
Take pics: Upload a close-up of your smile as well as a regular selfie.
Provide details: Tell your dentist what you dislike about your smile, the problems you're having, what you hope to change, and why.
Be patient: In just a few days, your dentist will send you a personalized consultation video with answers to all your questions and smile makeover recommendations.
Find Out What Cosmetic Dentistry Procedures Are Right for Your Smile
Someone can tell you that teeth whitening changed their life, but that treatment might not make a dent in your own tooth stains and discoloration. Porcelain veneers, however, could be your ticket to a gorgeous, white smile. An experienced cosmetic dentist alone knows what's right for your teeth. The condition of your oral health, the types of stains your tooth enamel is sporting, your budget, and even your level of dental anxiety are all factors in what procedures will create the right smile makeover for you.
Some of the most common smile makeover procedures include:
Prepless veneers: A comprehensive way to upgrade every cosmetic problem with your smile, from chips and gaps to stains and short teeth.
Cosmetic tooth bonding: A fast, non-invasive way to correct minor problems that cause unsightly teeth.
Teeth whitening: The most efficient and effective way to make your teeth multiple shades whiter, in just about an hour.
Full–mouth reconstruction: A combination of cosmetic and restorative dentistry procedures that improve the look and function of your teeth and smile.
Dental implants: The most durable, long-lasting solution to replace missing teeth.
See the New You with a Virtual Consultation and Smile Design
Hearing about exactly what's right for your smile is amazing. Being able to see the new you is stunning. Follow-up a Smile Virtual consultation with a digital smile design appointment in person with your Manhattan cosmetic dentist and you will get the info and a visual of what you'll look like with your smile upgrade.
Contact Dr. Michael J. Wei to schedule an appointment at his Midtown Manhattan dental office on Madison Avenue.