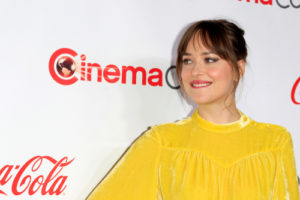 Dakota Johnson recently closed her front tooth gap – and her fans are bummed about it. The actress has made fun of her gap in the past, going so far as to make a humorous video called "How Much Stuff Can Dakota Johnson Fit in Her Gap Teeth?" Now, it seems, she's gotten a little smile makeover – and it's made a big difference in her appearance.
How Far Will You Go?
Actors and actresses are known for dramatically altering their appearance for a role – whether they shave their head or wear prosthetic teeth, gain weight or lose weight. Sometimes, though, they change their look for personal reasons, not for a role – and they do it permanently.
Celebs with notable dental features make headlines when they tweak their teeth but, as Johnson has made clear, they don't have to get an entire set of prepless veneers to make a huge difference in their look – and neither do you.
Little Cosmetic Dentistry, Major Change
All cosmetic dentistry treatments are intended to make your smile look better. Some take a few appointments and quite a bit of time to complete. Other smile makeovers are quick and can happen during one brief visit to your Manhattan dentist. The goal in either situation is to give you the flawless smile you want.
There is a pretty good chance that Johnson's gap was closed through cosmetic tooth bonding. An efficient smile makeover procedure, bonding is often used to beautify broken or jagged teeth, but the material can also be applied to teeth that are gapped or misshapen. The application, curing, shaping, and polishing of the bonding resin all happen during one dental visit – and you leave with a better-looking smile.
Other mini smile makeovers that take little time but make a big impact include in-office teeth whitening, porcelain crowns, tooth inlays or onlays, or tooth-colored fillings. Any cosmetic procedure that can brighten your teeth, correct an unsightly problem, or cover a long-disliked dental feature will be a welcome change for you.
Embrace Your Smile Makeover Moment
Being in front of the camera all the time highlights whatever flaws – perceived or real – a celebrity has. For someone like Johnson, her gap was, apparently, beloved, but maybe in her own eyes it was a drawback and she wanted to change her smile.
Everyone who's interested in cosmetic dentistry faces the same questions: If you don't like your teeth, what are you willing to do to change them? Will the change make a big difference or a small difference? What kind of difference do you want the cosmetic dentistry to make? Smile design software takes the guessing game out of how dramatically a smile makeover might alter your appearance.
Your NYC dentist is always in favor of an upgraded smile, but only if it's the perfect smile for you and your goals. Schedule an appointment with Dr. Michael J. Wei today at his dental office in Midtown Manhattan to discuss your teeth, whether a smile makeover is right for you, and whether you are ready for – or want – your own Dakota Johnson moment.