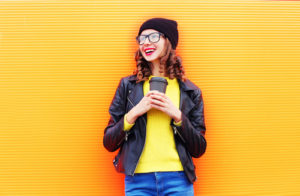 It's a time of year that millions of coffee-drinkers look forward to – Pumpkin Spice Latte season at Starbucks. Even if you don't patronize the big guys, there are plenty of competitors who make their own festive fall-flavored coffee beverages. The problem is, while these tasty treats might make your day, they're not doing your teeth any favors. Before you know it, you'll be looking at restorative dentistry and cosmetic dentistry treatments to take care of your stains and cavities.
Dental Demise Thanks to Pumpkin Spice Lattes
Let's talk about what's in a pumpkin spice latte. There is espresso, but also fall spice flavors, steamed milk and, yep, sugar. Plus, there is a whipped cream topping and even a smidge of pumpkin puree. It all sounds super-sweet and satisfying to the pumpkin-loving coffee drinker. However, there are two problems.
The coffee: Some people drink coffee every day. They might add a pumpkin spice latte to their daily java fix. A latte might seem innocuous since it's milky and light-colored. Coffee is coffee though, and any reliance on this beverage in its many forms can stain your teeth, permanently.
Though your tooth enamel may look smooth, it's not. That means it's easy for pigments in dark-colored beverages discolor the microscopic ridges and grooves in your teeth. Wash your teeth in coffee day after day – coffee of any kind and color – without proper brushing and flossing in between and you're far more likely to develop permanent tooth stains.
Even the flavorful cinnamon and nutmeg can cause tooth stains. Plus, there is annatto, the orange-red condiment and food coloring that gives a pumpkin spice latte a beautiful shade and aroma – and it covers your teeth in yet another stain-causing substance.
The sugar: If you're willing to live with the tooth stains left by pumpkin spice lattes or any coffee beverage just to get your fix, at least think about the damage a daily frothy, sugar-spiked latte can do to your teeth. Even if you're only into milky-white coffees for two brisk fall months, this concentration of sweet coffee-drinking will bathe your tooth enamel in sugar for hours – especially if you don't brush afterward, or at least rinse with water.
These practices threaten your oral health. Eventually, if you don't have a toothache looked at by your dentist, you could be facing root canal therapy, porcelain crowns, or other dental restorations.
Get a Beautiful Toothy Grin
The conclusion: Enjoy your seasonal beverages and daily caffeine fix if you must, just make sure you clean your teeth afterward. If you're long past the point of no return where coffee-drinking side effects are concerned, then it's time to see your Midtown cosmetic dentist.
If your teeth are stained and discolored, a professional and powerful teeth-whitening treatment might be enough to return your enamel to bright white and beautiful. If it's too late to make a dent in those ground-in tooth stains, you may need to discuss veneers with your dentist or other cosmetic dentistry treatments.
Dealing with tooth pain but fighting through it to enjoy your favorite fall drink anyway? Chances are you're nursing a cavity with one of the things that gave you the dental problem in the first place. Never allow a toothache to fester. Always see your Manhattan restorative dentist to get any suspicious areas or discomfort addressed immediately. You may need a tooth-colored filling or other restoration to get your smile back to normal.
Get a Healthy, Toothy Grin
No one wants to discourage you from enjoying a delicious perk of fall, but you must know the impact of everything you drink or eat on your teeth. If you are self-conscious about the appearance of your teeth or you're in pain, contact Dr. Michael J. Wei to schedule an appointment at his Midtown Manhattan dental office on Madison Avenue. Don't let your teeth turn into a broken-down Jack o' lantern.