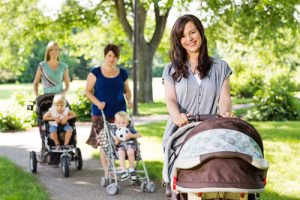 Your kids are great at making you feel self-conscious and they usually do it in public: Hey, mom, why are your teeth so yellow? Your teeth are really crooked. Why do you have so many spaces between your teeth? What's wrong with that tooth? Image is everything in Midtown Manhattan. Time to put your money where your mouth is – literally – and invest in yourself while you're raising your kids. You've earned a smile makeover, and then some.
The Importance of Giving Yourself a New Smile
No matter how hard you try to conceal what you dislike most about your smile, your kids will find a way to draw attention to it. If you are ashamed of how your teeth look, you'll be uptight about every mother- or child-related activity: school events, social gatherings, mommy groups, admissions interviews, playdates. You'll also be concerned about how you look for everything that falls in between: working, exercising, going out, or just hanging out.
Whatever the occasion, a good smile is your best accessory when you live, work, and play in Manhattan. Mommying is competitive just about everywhere, whether you like it or not, and if people are judging you on your bottle/breast, organic/inorganic, vaccinated/unvaccinated decisions, you can bet they're judging you on your teeth too. After all, how can you "properly" take care of your kid if you can't manage to keep up with your oral health?
The Mommy Smile Makeover
No matter what kind of mom you classify yourself as, chances are quite good that you don't do enough for yourself, and it's about time you did. If your teeth are healthy, you brush and floss daily, you visit your NYC dentist every six months for cleanings and exams, then you have an excellent foundation for some smile upgrades.
Cosmetic dentistry and smile makeovers are unique to every patient, but there are some procedures that work miracles for just about everyone:
Teeth whitening: If stains and discoloration are your biggest smile complaints, professional teeth whitening can be done in about an hour. You don't have much time to spare, and this cosmetic enhancement offers immediate, long-lasting results. Even if your smile isn't perfect, super-white teeth can make it look just about perfect.
Porcelain veneers: This is the smile makeover of all smile makeovers, but boy is it worth it. Moms who have long neglected themselves, or who are starting a new phase of parenthood and need a boost to their self-esteem, choose porcelain veneers to upgrade their smile in all ways. The shape, size, color, whiteness, brightness, and beauty of your smile will be elevated with customized veneers. They cover every imperfection and give you a flawless smile.
Cosmetic tooth bonding: On a major budget? You can fix those few unsightly teeth with an easy, quick, non-invasive cosmetic tooth bonding. In about 30 minutes, one flawed tooth can be corrected so it looks natural and blends in with the rest of your smile, making your smile look beautiful and complete.
Let your smile reflect the excellent, hardworking mom that you are. Make an appointment with Dr. Michael J. Wei at his cosmetic dentistry practice on Madison Avenue to get just the right smile makeover for your needs.