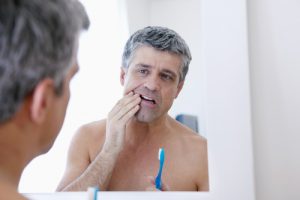 Full-mouth reconstruction, smile makeover, whatever you call it, overhauling your oral health – not only cosmetically but functionally – gives you a pain-free smile you will love because it looks and feels healthy. Full-mouth reconstruction is a combo of restorative dentistry, cosmetic dentistry, and neuromuscular procedures intended to rehabilitate the health of your teeth and gums.
You might need full-mouth reconstruction if…
… you have gum disease.
There are many signs of gum disease, but not all of them are noticeable in the early stages, which is one major reason it's important to see your NYC dentist every six months for a cleaning and check-up. He will see the telltale signs of gingivitis that you won't notice until things have progressed to full-blown periodontal disease.
Gum disease in its advanced stages leads to infection, abscess, and tooth loss. If you've reached this point, full-mouth reconstruction will involve the meticulous cleaning of your gums and, eventually, tooth restoration.
… you have tooth pain.
If you are suffering with tooth pain, something isn't right. In many cases, root canal therapy is necessary to correct an infection and, if that isn't going to be enough to eliminate the pain, tooth extraction will be next. Once a tooth (or teeth) has been removed and the area has healed, you will need to fill the space in your mouth, whether with a dental implant, dental bridge and crowns, or dentures.
… your jaw aches.
Tooth pain isn't the only reason to see your dentist – mouth and jaw pain deserve attention too. If your teeth, bite, and jaw aren't working together properly, your smile will be structurally unsound and won't move the way it's meant to. This can create chronic soreness, discomfort, and other aches, as well make it difficult to eat, alter your speech, and contribute to complications with your TMJ.
When things are not aligned properly in the mouth, grinding and clenching your teeth can lead to worn teeth, gum recession, and broken tooth enamel. Because these problems weaken your teeth, that leaves you susceptible to bacteria and infection and the need for dental restorations in addition to neuromuscular therapy.
… you have avoided the dentist for years.
Regular professional dental care is an essential part of good oral health. If you haven't seen a dentist in years, your teeth aren't healthy enough. Even if you brush and floss well at home, there is still plaque and tartar build-up on your teeth – no toothbrush is strong enough to remove it – and that means you're far more likely to have tooth decay, infections, and broken or loose teeth.
You know when your teeth aren't healthy. You know that your teeth don't look as good as they could. With full-mouth reconstruction, you will have every aspect of your oral health addressed so your teeth work perfectly and look flawless – a true smile makeover. Even if you have anxiety about the dentist, which is perhaps why you've avoided the dentist for so long, sedation dentistry can help you through your appointments.
Don't be embarrassed about your teeth anymore. Dr. Michael J. Wei, Manhattan mouth reconstruction dentist, wants to give you your best smile. If you're ready to restore your teeth and gums, schedule a consultation today.