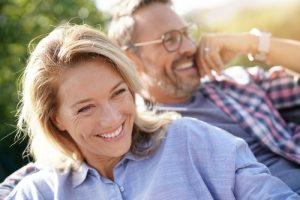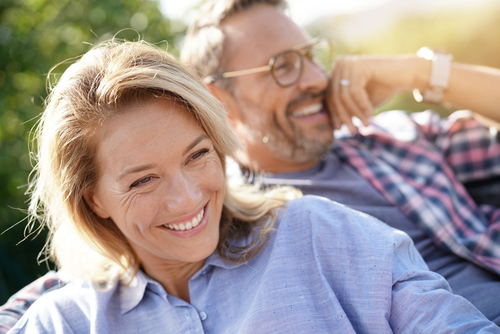 Baby Boomers are sometimes mischaracterized as the "old" generation, but this is the demographic that has always bucked the trend and created a new norm. They're forging a fresh path for themselves again as they invest in cosmetic dentistry after divorce or widowhood in preparation for entering the next phase of life: online dating.
The Best Cosmetic Dentistry for Baby Boomers
New stats from the American Society of Plastic Surgeons report that more Americans over the age of 55 are seeking cosmetic procedures to help them put their best face forward. These procedures, however, don't have to be surgical. In fact, many of them are non-invasive smile makeovers.
For Baby Boomers who want to improve their appearance but have no desire to go under the knife, cosmetic dentistry helps them look younger and better:
Porcelain veneers: Hide every cosmetic dental problem. Minimize wrinkles around the mouth and plump lips for the illusion of collagen.
Teeth whitening: Destroys stains and discoloration in an hour. Brightens the entire face.
Cosmetic bonding: Conceals chips, gaps, stains, or other surface imperfections in 30 minutes. Makes a flawed smile flawless.
Porcelain crowns: Cover unsightly, broken, or damaged teeth. Blend into the smile.
Dental implants: Replace missing teeth with permanent tooth roots and natural-looking prosthetic teeth. Complete a broken-down smile.
Baby Boomers Get the Perfect Smile for Online Dating
Older Americans are reentering the dating scene. About 20 million Baby Boomers are using online dating sites, an endeavor that can give you whiplash if you're not ready for it. Getting people to swipe right requires some great photos – and if your teeth stand out for the wrong reasons, you can bet you won't be making good matches anytime soon.
Dating is intimidating in the best of circumstances – meaning that youthful glow is still in place, your skin is taut, you barely have a wrinkle, your teeth are bright and beautiful – but if you're struggling against the inevitable pull of gravity, one of the best things you can do to bring up your dating potential is get a smile makeover.
Improve your confidence as you get back into dating, whether you're better at flirting in person or winking at people online. You want to look and feel your best and you should be able to – cosmetic dentistry makes that possible. With a smile makeover you will look younger, happier, healthier, more vibrant, and even wealthier and smarter. Those kinds of perks make you a serious catch.
Upgrade Your Baby Boomer Smile with Modern Dentistry
Baby Boomers aren't old. They are vital, important members of society who feel young inside and want to look young on the outside. Cosmetic dentistry makes the impossible possible, whether you are all in for full-mouth reconstruction or looking for a small but powerful upgrade like professional teeth whitening.
Successful dating is all about a great first impression. Even if you can post flattering pictures of yourself with a closed-mouth smile in your dating profiles and draw in potential matches, eventually you get a second chance to make a first impression – in person. When you finally meet offline, you want your teeth to make you memorable – in only good ways.
Contact Dr. Michael J. Wei to schedule an appointment at his Midtown Manhattan dental office on Madison Avenue for your smile makeover.