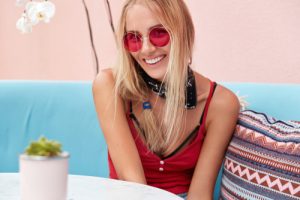 There are many ways to get ready for summer. Working out. Spray tans. Dieting. New clothes. Fresh hairstyle. Everyone has different goals for their appearance to get them beach ready, travel ready, and prepped for whatever summer has in store. One thing that goes with you everywhere and stands out no matter what the activity or occasion is your smile. Make this the summer of porcelain veneers and you'll look good and have fun this summer and every season to follow.
Reasons to Get Porcelain Veneers
Even when you're an adult, summer feels like a break. Though most people continue to work through the warmer months, there is a freedom about June, July, and August that can make you a little more relaxed, open-minded, and ready to make a change. If you're looking to do something dramatic with your appearance, it's time to consider porcelain veneers.
You'll be more confident. Summer can bring all your aesthetic insecurities to the table. The belly, thighs, arms, and pale skin that you covered up all winter long are now on tap to be revealed since you can only stand sleeves and long pants for so long in a Manhattan summer. A perfect smile will give you the confidence boost you need to rock every look, whether you think your body and the rest of your appearance is on-point or not. Good teeth mean a good smile which means everyone will be looking at your teeth and not your perceived imperfections.
You'll look younger. Who doesn't want to shave a few years off their age? Even if you can't literally change the number, you can certainly adjust your appearance so you look younger. Your customized veneers are designed to complement your face and mouth shapes. Veneers are carefully adjusted to be the right color and size so they flatter you. Plus, veneers naturally bump out your lips a little because of how they sit on your teeth – so you can enjoy a natural-looking collagen boost without the fillers.
You'll look (and be) happier. Porcelain veneers brighten your smile and your whole face. When you're proud of your appearance, you aren't afraid to show it off. Smiling more not only makes you look happier, it can truly improve your mood. You'll enjoy every day that much more – especially the vacation days – when your teeth are straight, white, and flawless. Plus, others will benefit from your joy. Smiles are infectious and the more you smile, the more smiles you get in return.
See Your Porcelain Veneers Before They're a Reality
Porcelain veneers are a major investment and you understandably want time to make the decision. Digital smile design gives you all the information you need to be prepared to hit the green light on new teeth. You can preview your smile makeover and see exactly how your teeth will look through this innovative program. Now that is a photo to hang on your fridge and think about every time you open the door.
Ready to be summer ready? Schedule your consultation with Dr. Michael J. Wei on Madison Avenue in Midtown to find out whether porcelain veneers are right for you.