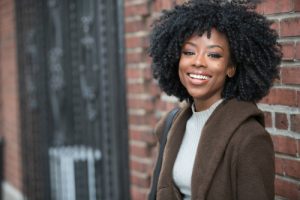 You admire the smiles of celebs. You want your smile to look just like theirs. Your Midtown dentist knows, however, that your teeth need to be perfect for you – and that requires customization. Porcelain veneers are the smile makeover of choice for many stars, and you can have the same white, bright, straight teeth, too. Just let your cosmetic dentist tell you how.
Using Veneers to Create a Perfect Smile Makeover
Dr. Michael J. Wei, NYC cosmetic dentist, recently wrote a post for Perio-Implant Advisory, a professional online resource for dentists and hygienists. The topic? The most important elements to consider when creating a perfect smile using porcelain veneers.
Here is some of the wisdom he shared:
Be conscious of size and shape: Some people have small teeth. Others have large teeth. Neither is necessarily desirable, and that's one reason people turn to veneers – to have teeth that are flattering in both size and shape. There will be patients who need gum removal or crown lengthening before veneers can be placed, but the result will be a balanced smile and flawless teeth.
White is not the only color for veneers: Yes, of course, veneers should be white. But there are many shades of white, and white-white is not necessarily the best version. No veneers should be brighter than the whites of a person's eyes, and the tooth color should complement the patient's skin color. Anything different and the teeth could look unnatural.
Teeth are not all the same length: Veneers should be sculpted carefully so they are in proportion with your face, your mouth shape, and each other. If you look in the mirror now, you'll see that your teeth are not all the same in length – but you will certainly notice someone's fake smile if they do have teeth that are all identical in size and length. Your veneers should subtly blend together and form a natural-looking smile. To help create that look, you may need some treatment for gum recession first.
Balanced translucency is essential: Natural teeth reflect light – and veneers must do the same thing. If teeth are too translucent, this characteristic will create discoloration and make your teeth look unhealthy. People who have tooth enamel like this may be eager to go after opaque veneers so teeth look robust, but this move can create a look that's flat and looks fake. Translucency is all about balance and making teeth subtly catch the light.
Choose the Right New York City Cosmetic Dentist for Your Porcelain Veneers
Not every dentist is an expert at creating and placing porcelain veneers. You need an artist and experienced professional to create your new teeth. The meticulous design and placement of veneers turn them into the straight, white, natural-looking teeth they're supposed to be. The best veneers conceal all the flaws in your original smile and give you teeth you'll be thrilled to show off.
Choose Dr. Wei to create your new smile. Schedule an appointment at his Midtown Manhattan dental office on Madison Avenue to glean wisdom from his experience and get the perfect smile you've always wanted.