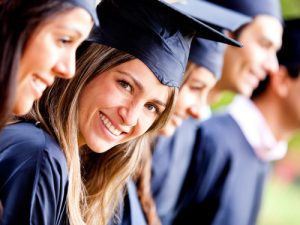 It's that time of year. Caps. Gowns. Graduation. The world is wide open for graduates when they get that degree or certificate that signifies the accomplishment of something great. Whether you're the one who's graduating, or you're honoring someone who's marking this milestone, celebrate the achievement with a perfect smile.
A New Smile for the New Graduate
As graduates venture into the workforce, whether they're hoping to be in a classroom, courtroom, salon, on stage, or otherwise, they will quickly learn that education and school success does not immediately translate into a coveted job offer. Getting in the door for an interview is big deal – you want to make sure you're accompanied by an excellent smile when you make that first impression.
Nervousness, hopefulness, eagerness – it's not always easy to mask emotions like this. Wouldn't it be nice to be a memorable candidate not because you stood out for your overzealousness, but because your smile was so stunning?
Hiding your teeth in an interview will make you feel self-conscious and give others the impression that you're not eager enough, nonplussed, depressed, or simply unsuited for the position. Big smiles win job offers. Whether you go big with porcelain veneers or go conservative with teeth whitening, cosmetic dentistry enhancements like this always make a major impact and say: I'm a great candidate. I'm deserving. Remember me and my smile. I'm the one you want to hire.
An Upgraded Smile for the Proud Parent
Once your child or beloved ward has earned their education, it's time to consider what you can do to give yourself a pat on the back. You raised them, supported them, helped them get this far. Now they're ready to fly off and establish their life – what are you going to do to reestablish yours?
A smile makeover gives parents the opportunity to start over themselves. Graduation isn't an ending for you or your involvement in your child's life. It's a beginning for everyone. You may be inspired to make a change in your own career. You may be ready to finally invest in your own wellness. You don't need a good reason to want a perfect smile other than you just want to be the best version of yourself.
If you have a few decades under your belt, you may have dental restorations that need upgrading. You may be ready to hide the stained teeth, fix the broken crown, or finally straighten your teeth. Cosmetic dentistry and restorative dentistry make a great pair, and your New York City dentist is prepared to design the smile makeover that's just right for your oral health renewal.
A Perfect Smile for the Future
You want to do everything you can to help yourself succeed, no matter what line of work you're in. Chase even more goals, mark even more achievements, and feel good about yourself and your worth with a flawless smile. This is New York City – you need all the help you can get to stand out among millions.
Make an appointment with Dr. Michael J. Wei at his cosmetic dentistry practice on Madison Avenue to find out how to graduate to a perfect smile.