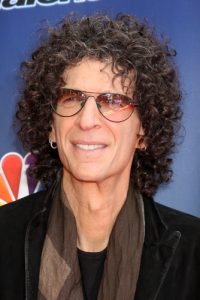 Radio personalities don't often come out from behind their microphones, but there is only one Howard Stern. The longtime shock jock and self-proclaimed King of All Media has conquered radio, movies, books, and TV, and he's had to show himself to do so. Now, his face is all over the media once more as he promotes his new book Howard Stern Comes Again. Though he has always been brutally honest about what he considers his physical shortcomings, Stern has not spent much time talking about his teeth or his smile makeover. Somewhere along the way, though, there was a definite change, and it was a good one.
New Job, New Teeth
Radio personalities are voices but, thanks to the internet, you can see the people behind the microphones. Getting a visual of a radio host can be weird because your vision of them could be very different than what they really look. Maybe it doesn't matter if their appearance lives up to their voice since, let's face it, radio hosts don't have to wear a suit or makeup to do their job.
You can't mention Sirius radio, however, without mentioning their moneymaker, Howard Stern. No one knows – or probably cares – what Stern is wearing while sitting at his microphone three mornings a week, but he turns head in public. Most people know this tall, curly haired, bespectacled disc jockey. Perhaps they've never noticed his teeth – not until, of course, he started flashing them more often.
In one of his well-publicized departures from the microphone, Stern was invited to be a judge on the reality show America's Got Talent. When you're on TV, you must look your best – and that includes your teeth. While your name can take you so far, your face at some point – at least when it comes to showbiz – must pull its weight. Whether you're starting a new job or are trying to land one, good teeth from a talented NYC cosmetic dentist help you make a better, long-lasting impression.
What's Up with Howard Stern's Teeth?
Porcelain veneers should make you look better, happier, healthier, and younger. Most of all, you want your veneers to look natural.
One caller to Stern's radio show asked him if he had his teeth capped. Stern said he redid them some time ago, getting bonding done and veneers over his real teeth. "I don't get that 'Hollywood white' though," he said, offering his opinion on the color he thinks teeth should be.
Stern's thoughts seem to be reflected in his own smile makeover. His teeth look good and they're white, but they're definitely not chiclets. Customized veneers come in different shades, from brilliant white to a more natural-looking enamel color. There is a good color for everyone, and it can depend on everything from your age and gender to skin coloring and face shape.
Get Your Own Shockingly Good Smile Makeover in Midtown
Whether your career is behind the scenes or in front of faces, how your teeth look matter. Your smile can be the difference between success and failure. Self-confidence is everything, and if you have even the slightest discomfort or self-consciousness about the appearance of your teeth, you could tank your own career progress.
Get ahead in your career. Schedule a consultation with Dr. Michael J. Wei at his Midtown Manhattan dental office on Madison Avenue to talk about the smile makeover that's right for you.