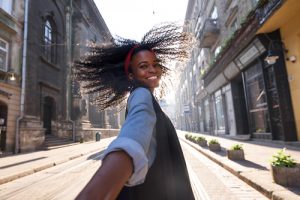 Every time is the right time to get a smile makeover, especially if your teeth are getting in the way of your success and happiness. Porcelain veneers are the popular choice of smile makeover patients year-round, and spring is an especially ideal time to pursue the new you. Here are just some of the reasons why.
1. Your New Year's resolutions petered out.
If you had big goals for yourself this year as far as self-improvement goes, you're either well on your way to accomplishing them or you've hit a rut. Achieving a major makeover isn't easy, but a smile makeover is far more palatable than losing 30 pounds or improving your zip code.
Porcelain veneers are the makeover of all makeovers. With one cosmetic dentistry procedure your smile can become whiter, straighter, and utterly perfect. Resolution accomplished!
2. Winter is hanging on far too long and you need something to look forward to.
Springtime in New York is exciting and beautiful. Possibility seems to be around every corner, and sunshine and flowers help. When snow, ice, cold, and blah have taken up residency in the borough of Manhattan, you need some hope to keep you going until warmth re-enters the picture.
Porcelain veneers take only two visits to your NYC cosmetic dentist to complete. By the time spring really starts to bloom, you can have a new smile to go along with the season.
3. Spring is a time of rebirth and your life could use some revitalization.
Have you long been haunted by your broken-down smile? Stained, discolored, crooked, chipped, and gapped teeth are all a problem. The reality, of course, is that a bad smile affects the rest of your world too. If you're ashamed of your teeth you're less likely to speak up, open up, or smile – and that means a limited chance of success professionally and personally.
You don't have to undergo a major smile makeover to get a punch of life, if that's the factor that's holding you back. A teeth-whitening treatment is uber-transformative – even if your teeth aren't perfect, when they're white they look a thousand times better. Porcelain veneers, however, are the ultimate way to get a flawless smile, so if you're looking for a major overhaul, you've chosen the right cosmetic dentistry treatment.
4. You want to go into summer feeling lighter, younger, more attractive.
It's been proven time and again that porcelain veneers can make you feel like the best version of yourself. The way veneers are placed on your teeth, they slightly bump out the lips – this gives you a plumper pout and can even minimize some of the fine lines around your mouth.
A white smile can take years off your age, even if you are sporting plenty of wrinkles or white hair. Youth and beauty are not the only pair. Age and beauty go together famously, and you deserve to feel new again, especially when summer rolls around.
Veneers make it possible for you to look better and revere yourself in new ways so that every season from here on out, no matter how bleak or dreary, will always be improved by a quick smile in the mirror.
Find Out If NYC Porcelain Veneers Are Right for You
Schedule a consultation with Dr. Michael J. Wei at his Midtown Manhattan dental office on Madison Avenue to discuss your perfect smile and whether porcelain veneers are right for you.