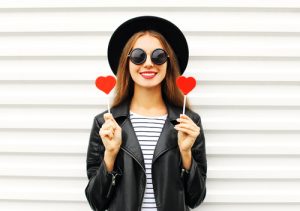 If you could design the perfect love match for yourself, would you? Innovations like this might be light years away, but there is one thing you can control now – your smile. With personalized smile design, you can see the way your teeth will look after a smile makeover but before you sit down to have the cosmetic or restorative dental work done. Love yourself this Valentine's Day – say yes to a smile makeover that is made just for you.
There are so many options when it comes to upgrading your smile. Depending on the current state of your oral health and where you want to be, smile design can show you how you'll look with various cosmetic enhancements or corrections. Think about what you want, talk to your Midtown dentist, then get a good look at the new you.
Through digital smile design you can see yourself:
1. With straight teeth.
There are two main ways to get straight teeth – porcelain veneers and Invisalign. Veneers, however, have the upper hand because they not only align your teeth they give you straight teeth that are white, uniform, and truly complement your features. One cosmetic dentistry procedure – one perfect smile.
2. Without an ugly tooth.
If you have one tooth that stands out for its unsightliness – it's misshapen, discolored, damaged in some way – a porcelain crown covers up what you hate and gives you a complete smile.
3. With a complete smile.
If you're missing a tooth or many teeth, it may be impossible for you to visualize what you look like with a complete smile made with dental implants or dentures.
4. With white teeth.
There is no DIY treatment that can compare with professional teeth whitening. Your Manhattan cosmetic dentist's powerful bleaching agents blast away surface stains so your teeth are gleaming.
5. Without tiny imperfections.
A silver cavity. A chipped tooth. One small tooth. One annoying gap. Tiny imperfections in your smile may not register with other people, but if you are distracted by these characteristics every day, there are several cosmetic dentistry procedures that can correct them, from tooth bonding to crowns to tooth-colored fillings.
6. Looking younger.
Smile design is amazing because it not only shows you what your new teeth will look, but what these teeth will look like on your face. You can truly visualize the new, younger-looking you, and get printouts of your transformation to share with family and friends (in case you need more convincing to give yourself the gift of a gorgeous smile).
7. Looking happier.
If you've been mopey for years – or at least perceived as mopey – because you're reluctant to smile and show your teeth, digital smile design will prove to you that smiling will make you look happy. Envisioning yourself expressing the joy you feel means self-consciousness is out the door and self-love is in.
Excited to see what kind of smile potential you have? Schedule your appointment with Dr. Michael J. Wei at his Midtown Manhattan dental office on Madison Avenue to talk about cosmetic dentistry solutions, digital smile design, and the new you.