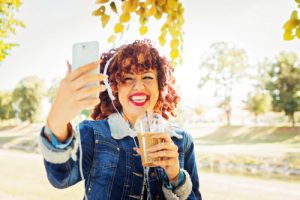 If you're using Tinder to meet a match, you've probably spent considerable time debating over which photos to post. When you're short on good, flattering pictures, it's not necessarily about your lack of selfie prowess – it might have everything to do with your teeth and how you're trying to hide them. If you're frowning, straight-faced, or short on Tinder photos that show you looking happy, it's time to talk smile makeover.
If Tinder Can't Help You, It's Time to Address Your Smile
Tinder's Help section suggests updating your photos if you're not getting any matches. This sophisticated app also recommends turning on Smart Photos. Tinder knows how critical good photos are and they've created an algorithm to make sure you're leading with your best photo to get more people to swipe right.
Smart Photos alternates the photo that is first seen by others, continuously keeping track of how people are swiping when they see that photo. They automatically reorder your photos so your best pic appears first and your chances of success go up. Initial testing had users seeing up to a 12 percent increase in matches. Sweet, right?
What if your pics aren't all that appealing to begin with though? What if you're not smiling or approachable in any single one of them? If your smile is holding you back from getting pics good enough to post on Tinder, it's time to consider a personalized smile makeover.
Your Midtown Cosmetic Dentist Tells You What Works
Tinder's Smart Photos tell you what photos work best, and your Midtown cosmetic dentist tells you what smile makeover procedures will work best. You want to know how to look better and be more attractive to your targeted demographic, so make the effort to get there.
You'll get more people to swipe right if you address the dental problem that's ruining a beautiful smile.
If your teeth are crooked, you can correct them with porcelain veneers or, if you have the time, Invisalign braces.
If your teeth are gapped, and it's not the kind of gap that's sexy or quirky, close the spaces with porcelain veneers or porcelain tooth crowns.
If you have a chipped tooth, get it corrected with a bit of tooth bonding, a porcelain crown, or veneers.
If you have a discolored tooth, that one unsightly bit of enamel can ruin your entire smile. Cap it with a crown or shield it with a porcelain veneer.
If your teeth are stained, professional teeth whitening is the fast, powerful, long-lasting answer.
In short, whatever your cosmetic dental issue, there's a solution for it to give you the hot, lovable, inviting, flawless smile that you want to show off to a perfect match. You live in a sea of people in New York – it's time to stand out for all good reasons.
Don't Let Tinder Wreck Your Self-Esteem
It's not just your teeth that can make you feel bad about yourself. Tinder rejections ding your self-esteem too. A study from the Proceedings of the National Academy of Sciences found that when you're rejected romantically, your brain processes physical pain. Heartache is real, even if it comes in the form of a Tinder rejection.
Tinder users judge you on your appearance. Your photos are the first thing they see and if they like how you look, there will be more right-swipes so people can get to the substance part of who you are. Give your self-worth a boost. Make an appointment with Dr. Michael J. Wei at his cosmetic dentistry practice on Madison Avenue to find out how you can improve your smile on camera and in real life to give yourself the best chance of meeting a match.