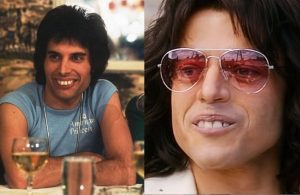 Oscar season is here, honoring the best films and performances of the past year. Often rising to the top are biopics – real people imitated on film. One of the biggest movies of 2018 was Bohemian Rhapsody, the story of Queen lead singer Freddie Mercury. This rock star's powerhouse voice is legendary – and so were his prominent teeth. Actor Rami Malek took on the essence of Mercury, wearing prosthetic teeth just like the singer's. This temporary change took smile makeover to a whole new level.
The Famous Teeth of Freddie Mercury
A pivotal moment in Bohemian Rhapsody was when young Freddie tried to sell himself to future bandmates Brian May and Roger Taylor as their new lead singer. "Not with those teeth, mate," came the response.
Malek as Freddie responded: "I was born with four additional incisors. More space in my mouth means more range." Mercury did have four extra teeth – an overeruption – at the back of his mouth pushing the rest of his teeth forward. This resulted in a massive overbite, sometimes referred to as an overjet or a class II malocclusion.
Typically, someone with such a prominent dental problem would likely have it addressed, not just for aesthetic purposes but for health issues. Overbites can be accompanied by pain in the TMJ, muscles, or teeth. An overjet like Freddie's could have made it difficult to eat or speak. Orthodontics, orthognathic surgery, and extractions might be the recommendations.
Mercury could certainly have afforded a smile makeover at the height of his fame – but he apparently believed this unique feature did give him more range. He didn't want to alter his instrument. As it turns out, plenty of people thought Freddie Mercury's teeth were important – and who is to say who he would have been without them.
Malek embraced his role as Mercury wholeheartedly, wearing the prosthetic teeth even off set so he could embody the rock god and fully take on that persona, teeth and all. He says that the first time he put the fake teeth in, he immediately felt self-conscious, carrying himself a different way, realizing that these teeth were why Freddie was who he was.
Get Your Customized Smile Makeover
When posing for photographs, Freddie kept his mouth closed. On stage, in the throes of musical magic, he opened that mouth and let his voice blast out with no self-consciousness about his teeth. Mercury's teeth were part of his identity. They were simultaneously an affliction and a blessing.
Every person has an opinion of their own teeth, how they make them look and affect who they are. Should Mercury have gotten a smile makeover? There are arguments for and against changing your natural teeth. Obviously, if there is a medical complication or serious pain and discomfort, fixing your teeth is necessary. The goal with any dental repair is to give you a stronger, healthier mouth that works better and feels better. Dental restorations make it easier for people to eat, speak, and smile.
Ultimately, your smile is your own and a pivotal piece of how you think of yourself and how others perceive you. Find out what kind of New York City smile makeover is right for you – whatever work you might have done, the final look will be natural and customized. There was only one Freddie Mercury, but there is only one you too. Contact Dr. Michael J. Wei in his Midtown Manhattan office on Madison Avenue to schedule your appointment today.