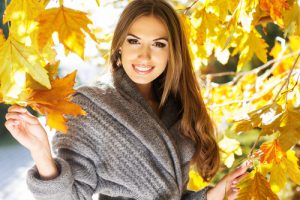 Every season of the year is an excellent time to reinvent yourself. Fall is an especially meaningful time of year because this is truly a period of change. Whether you like it or not, in New York City the temperatures are changing, the leaves are falling, and you're bundling up. Your teeth, however, are always on display. If you're embarrassed by the look of your smile, prepless veneers are one of most effective, non-invasive ways to improve your smile permanently, through every season.
How Do Prepless Veneers Work?
What's the difference between prepless veneers and regular veneers? The result from both procedures is a gorgeous smile that makes you look amazing – younger, happier, healthier, even smarter and wealthier. Both types of veneers are versatile, correcting multiple aesthetic complaints at one time. You can eliminate tooth stains, misalignment, chips, cracks, uneven teeth, short teeth, and gaps all with veneers.
The porcelain used to make all veneers is incredibly thin, strong, and durable. When taken care of properly – simply enough, brushing and flossing daily and seeing your dentist every six months – veneers can last a lifetime.
Here's the distinction between prepless and regular veneers: obviously, the preparation. Teeth need to be carefully sanded down to make room for traditional veneers. Prepless veneers, however, require little to no prepping of the teeth for veneers to be bonded in place. Teeth are cleaned and lightly sanded to eliminate surface stains, shine, and any minor imperfections in the tooth enamel.
Prepless Veneers Turn Your Smile Into a Work of Art
Prepless veneers – all veneers, really – are an exercise in artistry. Why are veneers better than teeth whitening? What can veneers give you that other types of cosmetic dentistry cannot?
There is a cosmetic dentistry treatment for everyone and, when done by an experienced and meticulous NYC dentist, the smile makeover will be flawless and natural-looking. Veneers, however, require a special kind of skill.
Customized veneers begin with a thorough evaluation. Everything from your face shape to skin tone to the natural color of your teeth are taken into consideration when your dentist designs your prepless veneers. Because veneers are so incredibly thin, it's essential for your dentist to consider what will be under the veneers and prep your teeth carefully.
Your unique enhancements should blend seamlessly and complement you when it comes to the size, shape, translucency, and color of each veneer. Design and development of personalized veneers is a major part of the equation, and it must be accompanied by the careful placement of the veneers by an experienced cosmetic dentist.
Ready to fall in love with your smile again? It's time to start talking about your personalized smile makeover. Contact Dr. Michael J. Wei at his cosmetic dentistry and prepless veneer dental practice, located on Madison Avenue in Midtown Manhattan to schedule your appointment.