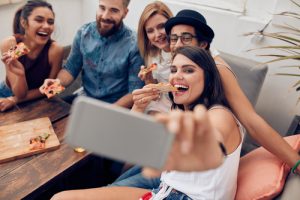 If you want to get anywhere in New York City and get your name on the map – whether writer, actor, politician, designer, socialite, financier, or otherwise – social media is an essential part of your marketing arsenal. In fact, some might say, the likes of Instagram and Facebook and Twitter will make or break you. If your smile is looking less than stellar, it's safe to say your social media will suffer. Know that your photos will always be flawless by investing in a customized smile makeover.
Here are just some of the reasons a smile makeover will turn you into a social media star:
1. Buh-bye photo editing!
Instagram is the place to be these days on social media. That platform, of course, is all about photos. While there are hundreds of filters and enhancements that can perfect a picture and hide flaws, there is only so much that can be done with your teeth, unless you're one of those New Yorkers who doesn't mind spending hours editing every photo for ultimate perfection.
Wouldn't it just be easier to take a selfie, touch it up, post, and go? When your teeth look great at every angle, thanks to porcelain veneers or teeth whitening or any other cosmetic dentistry treatment, you won't have to worry about any shot.
2. No damage control needed.
What if someone else takes a photo of you and plans to post it? It's hard to get your hands on that image before it goes viral. Are you prepared to always hide your teeth by not smiling or giving a closed-mouth smile?
Looking like you're insincere, cold, or disinterested may work sometimes, depending on your social and professional goals, but most people are drawn to the folks who aren't afraid to give a big smile or laugh at the world with their mouth wide open.
3. Confidence says it all.
Even if you're not posting photos all that much, but rather expressing your succinct thoughts on Twitter, an excellent smile will help. When your teeth look good, you won't be afraid to speak up, whether in person or online. A good smile creates a strong sense of self-confidence.
You cultivate a voice for yourself online. Don't let it be a meek one – speak your truth, whether you're discussing politics, prose, places, or people. Your followers and likes will increase exponentially when you believe in yourself and your smile.
4. You come out from behind the social media.
Social media success may be your glass ceiling. However, many people who make a name for themselves on Instagram or Twitter wouldn't mind having a few more eyeballs on them, maybe through a book deal, a TV appearance, or a brand endorsement. Will you and your smile be prepared to meet face-to-face with the person who could give you your big break or further your career goals?
Get the scoop about the smile makeover procedures that are right for your teeth. Your smile is the focal point of your face, and your belief in how you look is an indication of the success of your social media presence. If you want to stand out, you need to look good.
Make your appointment with Dr. Michael J. Wei at his Midtown Manhattan dental office today. Whether you work, play, or live in New York City, you can keep up with anyone and everyone online.