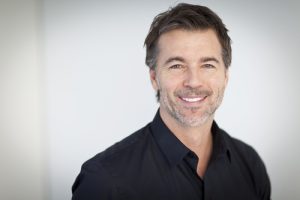 You can get just about anything you want in Manhattan, including a perfect smile. How you go about achieving that excellent grin, however, is a very personal thing. When you find the right cosmetic dentist in Manhattan, you'll be presented with the best options for your smile, face, and overall appearance. Here are just five of the top ways to get a perfect smile in New York City.
1. Get Total Smile Perfection with Porcelain Veneers
Those megawatt smiles that seem to be on every celebrity? They weren't born with perfect smiles. They usually have porcelain veneers to thank for those white, flawless grins. Veneers are carefully customized to suit the patient in color, length, size, and translucency. The result: A natural-looking smile that will be coveted by all, whether you're a celeb or not.
2. Wow Them with Professional Teeth Whitening
There is a reason that teeth whitening remains one of the most popular cosmetic dentistry treatments – it works. Teeth whitening can be done in about an hour in your New York City dentist's office and you'll walk away with a bright smile that is shades whiter than before. Even if your teeth are a little crooked or have a few flaws, a whitening treatment will turn these elements into endearing quirks.
3. Look Good and Feel Good with Porcelain Tooth Crowns
If you have a tooth that needs to be repaired because of damage, root canal therapy, or otherwise, you want the solution to be strong and still look good. Porcelain tooth crowns are the solution, as their natural tooth color blends in with the rest of your teeth while protecting or reshaping a problem tooth into part of a perfect smile.
4. Improve Your Smile Quickly with Cosmetic Tooth Bonding
People underestimate the power of cosmetic tooth bonding. This procedure is one of the fastest ways to repair damaged teeth. Tooth bonding is painless, non-invasive, and affordable, so if your tooth needs some TLC right now and you're pressed for time, bonding is a viable option.
Tooth bonding can also be an alternative to a crown, fixing chipped, jagged, or discolored teeth. In just one visit to your NYC dentist, your tooth can be prepped, bonded, shaped, and polished to perfect. Total time in the seat – about 30 to 60 minutes per tooth.
5. Fix Everything with a Smile Makeover
All cosmetic and restorative dentistry treatments are customized to each patient. Therefore, every procedure that improves your teeth qualifies as a smile makeover. A new smile can be created with one procedure or multiple procedures, and a smile makeover should make your teeth not only beautiful but healthy and fully functional too.
For some patients, this means dental implants to replace missing teeth, or a dental bridge anchored by dental crowns. For other patients, it means replacing all their silver fillings with tooth-colored fillings.
Be the envy of all your friends and colleagues. Have people stop you in the streets to ask where you got that amazing smile. Stand out wherever you are with a perfect smile created by Dr. Michael J. Wei in his Midtown Manhattan office on Madison Avenue. Schedule your appointment today.