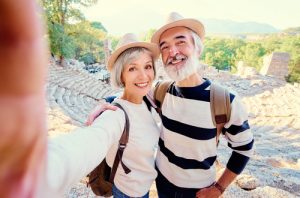 Modern dental work is strong and can last for decades. For those of us old enough to have several decades in age under our belts, and plenty of dental work too, tooth restorations eventually fail. You will need restorative dentistry to get your smile back into working condition. The good news is: Dental restorations and cosmetic dentistry solutions are that much better and more advanced today. The result will be a durable smile makeover that lasts far into the future.
Do You Have a Broken Crown?
Porcelain crowns are used to repair broken teeth, cover a tooth after root canal therapy, and serve as anchors for a dental bridge. Crowns are strong and they make a tooth look like it was never damaged. When the bonding of a crown to the natural tooth begins to fail, the crown can become loose and even fall off.
A replacement porcelain crown can be created and newly bonded in place. The original crown could be bonded back in place, though this solution is less likely – if a crown is compromised enough to fall out of place, it may not be in the best shape to use again. Some patients could be candidates for a dental inlay, which is also known as a partial crown. Your Manhattan restorative dentist will let you know the most viable option for your unique situation.
Do You Have Silver Fillings?
Along with being unsightly and becoming unstable over the years, silver amalgam fillings are also unhealthy. Made with toxic mercury, the composition of these fillings will eventually leach into your system. Silver fillings, over time, will also begin to give the tooth and surrounding gums a grayish tint. Plus, given their tendency to expand, amalgam fillings could cause cracks in your tooth, making it susceptible to bacteria, eventually leading to the need for root canal therapy or extraction.
Tooth-colored fillings are safe and natural-looking. They can replace silver fillings successfully, whether you're having an amalgam filling removed or have lost a filling and need the tooth repaired. Tooth-colored fillings are free of toxic mercury, so they are not only appealing visually, they are good for your overall health.
Do You Have Ill-Fitting Dentures?
Denture wearers are not necessarily the biggest fans of this solution for missing teeth. Over time, the dentures can slip out of place and your palette can change because of the dentures, making them ill-fitting Modern dentures help minimize these problems, however, some patients would like to eliminate dentures completely.
Dental implants are one of the best ways to replace missing teeth. Not only is the tooth itself put in place, filling all the holes in your smile, but the tooth root is replaced too, stimulating your jaw and making your teeth functional and your bone strong.
Get the Restorative Dentistry Solution You Need
Whatever dental restorations you might need, whatever oral health problem you're having, Dr. Michael J. Wei is ready to help. Located on Madison Avenue, his NYC dental office is prepared to manage all your dental complications. You deserve to have good oral health at every age. No matter what complaints you have, no matter what dental work has failed, Dr. Wei can fix it. Make your appointment at his Midtown Manhattan dental office.