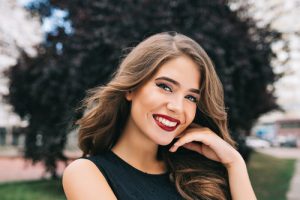 There are many dentists who can give you porcelain veneers, but there are not many dentists who can perform the procedure with skill, precision, and artistry so you end up with a natural-looking perfect smile. Veneers are one of the more expensive cosmetic dentistry procedures you can have done but, done well, they upgrade your smile, and your life.
Investing in Porcelain Veneers
There are many reasons why it's a good idea to pursue a porcelain veneers smile makeover. Some of the biggest reasons people make the investment include:
The Look
Let's face it, who wouldn't like to look like a celebrity? Rest assured that the big names aren't getting their megawatt smiles from teeth whitening alone. Professional teeth-whitening treatments are powerful and effective, but the celebs who have truly perfect teeth that are bright, straight, and flawless are fortunate enough to be born that way or have aligned themselves with a talented cosmetic dentist who can deliver flawless porcelain veneers.
Veneers eliminate the gaps that have always bothered you, the chipped tooth, the unsightly discoloration, the crooked teeth, or all the above. Whatever your aesthetic complaints about your teeth, veneers serve as a versatile solution, and they look natural when complete (if they're high quality and applied properly).
The Quality
Made of incredibly thin pieces of porcelain, veneers are customized for you and bonded permanently to your teeth. Veneers change the look of your teeth, as well as the shape and structure, and they are strong, durable, and stain resistant.
Less expensive veneers may be lacking when it comes to looking just like tooth enamel. White teeth are not just white, after all. There are many shades and highlights that combine to make the most natural-looking, light-reflecting teeth that mimic natural enamel. It's essential to discuss all veneer options and elements with your dentist so you can determine the right material for your smile.
The Longevity
When properly cared for, veneers can last for decades. They are a permanent smile improvement, but they aren't self-sustaining. It's still important to see your dentist regularly every six months, get dental cleanings and exams, and brush and floss properly at home. Veneers work just like regular teeth, only better, and they deserve thorough care to maintain their A+ status.
Choose Your Own Smile Makeover
One of the most important elements to consider as you pursue porcelain veneers is: Which Midtown Manhattan cosmetic dentist has the craftsmanship to deliver the smile I want? Creating and placing veneers is an artistry that requires a practiced hand and keen eye for detail.
After all, veneers are an investment, in your smile and oral health. When you choose veneers from the best NYC dentist, you will never regret your decision, and you will see how your choice to get veneers impacts the rest of your lifestyle, personally and professionally. Like any other service or item you purchase, the only variables are what can you afford and what you value.
Dr. Michael J. Wei is an experienced and sought after NYC cosmetic dentist who is known for his dedication to perfection. Schedule your consultation with Dr. Wei at his Midtown dental office on Madison Avenue to find out what porcelain veneers can do for you.