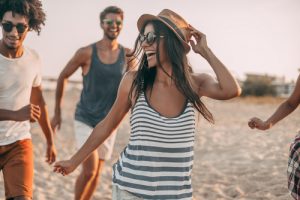 Summer has reached its peak but there are still plenty of beach days ahead. If you wish you had a perfect smile to go with the sunshine and relaxation, you haven't run out of time. There are plenty of quick ways to get a smile makeover before you pack up the sunscreen, swimsuit, and shades.
Quick Fixes for a Perfect Smile
Many Manhattanites look forward to a weekend in the Hamptons. Whether you're headed there, another east coast beach, or an island getaway, a perfect smile is an important part of the equation. You want to look your best while you're hanging out with friends, meeting new people, enjoying time with family, or attending social events.
Your ideal accessory is a five-star smile, and you can get that quickly with any of these cosmetic dentistry procedures:
Cosmetic Tooth Bonding: Dental bonding repairs problem teeth to look completely natural. It's a minimally invasive technique and can be used to fix gaps, chips, discoloration, cracks, and oddly shaped teeth. The process requires prep, application, sculpting, and polishing, but the procedure usually only takes about 30 minutes per tooth.
Snap-On Smile: If you have two weeks or more before you hit the beach, a Snap-On Smile can be a quick fix. This fast enhancement is non-invasive, temporary, and affordable so you can get a new smile without a big commitment, but it's a smile that can last for a few years with proper care. The customized smile snaps into place without adhesives (but it's not a denture!) and can even work for people who are missing teeth. You may just realize after investing in this cosmetic dentistry solution that porcelain veneers are the best way to change your smile permanently.
Teeth Whitening: It's hard to beat the effectiveness of professional teeth whitening. If your smile is healthy, and even if it isn't completely straight or perfect, a powerful whitening treatment will make you look healthier and happier. The bleaching agents in the teeth whitening products from your Midtown Manhattan cosmetic dentist blast through stains to give you a smile that's nearly 10 times whiter. Plus, the in-office procedure only takes about an hour to complete. If you'd rather whiten on your own time, don't go for an over-the-counter kit – get a proven treatment from your NYC dentist for quality results.
A Summertime Makeover
Summer is one of the best times to get a smile makeover, whether it's a quick fix or takes a little longer. If you have school-age children, chances are you've been so busy that there hasn't been a whole lot of socializing going on. At the office and in your neighborhood, people have been taking vacations and coming and going so much that paths don't cross as much as usual.
In other words, when people haven't seen you for a while, your smile makeover will be that much more impactful, but it won't be so obvious that people will realize that the thing that's changed about you is your teeth. After all, you want everyone to see you looking better, happier, and healthier, but you don't necessarily want to give away the secret.
Choose your unique path to a perfect smile, then go relax and enjoy the beach. Contact Dr. Michael J. Wei on Madison Avenue to schedule your appointment.