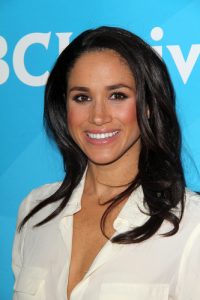 With Prince Harry and Meghan Markle's wedding on May 19, 2018, it's an excellent time to review the smiles of the British royal family. Who has the best teeth? Who needs a smile makeover? Is the British stereotype of being a nation of people with bad teeth fair or accurate?
Meghan Markle
She's just steps away from being a royal – an American turned royal, no less – and Meghan Markle's beautiful smile is in demand. The length and width of her teeth complement her appearance, and her full smile is aligned, natural-looking, and white (but not too white). Meghan is at the top of the heap when it comes to enviable royal smiles.
Prince Harry
Prince Harry is a redhead, and many redheads, along with their fair skin, are more likely to have thinner teeth enamel and yellow-looking teeth. A professional teeth-whitening treatment is unlikely to make a dent in this sort of shading – bleaching blasts away stains, but it cannot change teeth that are naturally yellow. Porcelain veneers are needed for that kind of smile makeover.
As far as alignment, you can find photos of Harry as an adolescent wearing braces, and his teeth are relatively aligned now. His front teeth are notable – there is a slight gap between them, or maybe it's a slightly chipped tooth. The angle of a photograph makes all the difference in what he has going on there. A little cosmetic bonding could clear that right up – but perhaps this quirk suits the devil-may-care attitude that seems to follow Harry around.
Catherine, Duchess of Cambridge
She will always affectionately be known as Kate Middleton, but the mother of three and style icon is also known for her stunning smile. Kate's teeth have been excellent since she came on the scene, and her smile is infectious and beautiful, just like her soon-to-be sister-in-law's. Her teeth are straight, white, and natural-looking in all ways. If anything, many people wonder if she's had porcelain veneers, but she may have just gotten the luck of good DNA.
Prince William
Second in line to be King of England, William sports teeth that are not quite white, but are in decent alignment. What makes his smile stand out is that the buccal corridors – the negative space between the teeth and the corner of the mouth – are quite significant. William's teeth are also concentrated in the middle of his mouth, very much like his mother's Princess Diana. Maybe no one really notices what's going on with his teeth since his wife's smile tends to steal the spotlight.
Princesses Beatrice and Eugenie
Cousins to William and Harry, Princesses Beatrice and Eugenie are the daughters of Prince Andrew and Sarah "Fergie" Ferguson. The sisters are instantly recognizable because they seem to have inherited the prominent teeth that are common to the Windsor family, especially Beatrice. The sisters' extremely long and large teeth have that "horsey" appearance and can look like cosmetic dentistry gone wrong.
Get Your Royal Smile Makeover
Clearly, the royals are happy with their smiles as-is, and they're getting their photos taken daily. If you're not satisfied with the look of your own teeth, however, it's time to make a change. Whether your teeth are discolored, damaged, too big, or too short, something can always be done to make them look beautiful and natural. You're in good hands with Dr. Michael J. Wei, the royal provider of cosmetic dentistry in Midtown Manhattan. Schedule your appointment today.