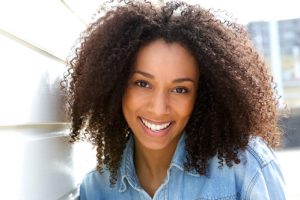 Porcelain veneers are a popular cosmetic dentistry procedure and one of the biggest reasons why is this: Done well, porcelain veneers look completely natural. People will think you were born with such flawless teeth. There are many elements that go into creating that perfect smile, though, and finding an experienced New York City dentist to create it is one of the most important.
Perfection comes from careful consideration of multiple components during the design of your unique smile makeover. These include:
Color
The dentin beneath your tooth enamel is responsible for giving teeth a slight yellow tint. Some people have darker dentin, and if you're one of them, veneers are the best choice for combating this characteristic as teeth whitening won't make a dent in the inner workings of your teeth. A smart dentist knows that teeth should not be whiter than the whites of your eyes and they should blend nicely with skin color. Anything brighter and teeth are more likely to look fake and unnatural. Good veneers are white, but not too white.
Length
Short or long teeth can upset the balance of your face, drawing attention to a smile that you may not love. If your teeth are too short, veneers can lengthen them. If your teeth are too long, your cosmetic dentist will evaluate whether gum recession is part of the problem (this may need to be addressed before veneers are bonded in place). Whatever your case, length is an integral component of veneers. Each of your porcelain veneers should not be identical in length, but subtly complement each other so they look natural.
Size
Teeth that are too big can give you a horsey appearance. If just a few teeth are large, particularly the front teeth, you will look like you have buck teeth. When teeth are too small, there could be large gaps between them, making you look like you still have baby teeth. A gummy smile may also make you look like you have small teeth, when what you may have are excess gums. Just a few veneers can be used to balance out large front teeth, while an entire set of veneers can transform any smile.
Translucency
Teeth reflect light, so veneers should too. If your veneers are completely opaque, they will appear flat and fake. If your teeth are incredibly translucent, a byproduct of poor enamel development which is just part of your DNA, they can look unhealthy and discolored. The translucency, opaqueness, and coloring of veneers are all part of a careful recipe that your Midtown Manhattan dentist will customize to you alone so your teeth are just the right amount of light and dark.
Alignment
For people who want straight teeth without braces – plus other perks like white, perfect teeth – porcelain veneers fit the bill. A complete set of veneers can give you a completely aligned smile. Having some veneers bonded to boost the size of just a few teeth can help turn teeth that lean inward look straighter.
Your perfect smile is possible, and porcelain veneers may be just the cosmetic dentistry treatment to make it happen. Schedule your consultation with Dr. Michael J. Wei at his Midtown dental office on Madison Avenue to find out whether you're a good candidate for veneers or Lumineers.