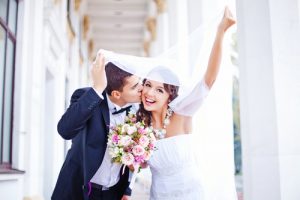 May has arrived and you know what that means: wedding season. Brides, however, are lovely any time of year. Whether you are putting together your last-minute wedding plans, or just beginning to plan your nuptials, there is one thing you don't want to forget: the perfect smile for your perfect day.
Smile Makeovers Fit for Brides and Grooms
Though many brides and grooms strive for everything to be just so and go just right on their wedding day, there are bound to be a few snafus. Even though perfection is subjective, there is one thing that is hard to argue with – the beauty of a perfect smile.
Plenty of engaged couples hire personal trainers, makeup artists, and stylists to help them become the very best version of themselves in time for the big day. Just remember that front and center, beyond the dress and flowers and headpiece, is your smile. After all, a wedding day – no matter how big or small – involves a lot of smiling in person and for photos. You should be happy to celebrate the union with your partner, but does your smile reflect the true joy you feel?
Schedule Your Smile Makeover in Time for the Wedding
The last thing you want to be is a straight-faced bride or groom who is reluctant to open his or her mouth because of how their teeth look. Your teeth don't even have to be in great disrepair to make you feel self-conscious. Maybe you're just tired of your enamel looking dingy and stained, or you're finally ready to do something about that snaggle tooth or those unsightly silver fillings.
A smile makeover should be part of every wedding planning calendar so you can look and feel your very best on your wedding day. Here is an idea of how you can prepare your teeth in time:
If you're getting married in one week: Quick fixes are part of the smile makeover repertoire. You can have a professional teeth-whitening treatment, undergo cosmetic tooth bonding, get a tooth-colored filling, have your teeth cleaned, or all the above general dentistry and cosmetic dentistry procedures, and walk away with a dazzlingly gorgeous, bridal-ready smile.
If you're getting married in one month: There may just be enough time to squeeze in a serious smile makeover using porcelain veneers or Cerinate Lumineers. These procedures usually take two visits to your Manhattan dentist to complete. Be sure to discuss your important timeline with your Midtown cosmetic dentist to ensure that your smile is ready.
If you're getting married in six months: Maybe you're not quite sure what your smile needs. Having six months doesn't rush you into deciding what kind of smile makeover investment you want to make. You can talk over the various types of cosmetic improvements that can make your smile look its best, and undergo restorations first to ensure that your smile is not only beautiful but healthy, functional, and pain-free.
If you're getting married in a year: You have oodles of time to figure out what you want for your beautiful perfect smile, and take good care of it with diligent brushing and flossing in the meantime. You could do a course of Invisalign treatment. The usual full treatment takes an average of 12 months to complete, but even if you're not done by your wedding day, you will show off a much-straighter smile, and you can wear your nearly invisible aligners on your day without anyone noticing. Of course, all other smile makeover treatments can easily be completed within a year.
Ready to say, "I do!" to your perfect smile, and a picture-perfect wedding day? Schedule your consultation with Dr. Michael J. Wei, Midtown Manhattan cosmetic dentist located on Madison Avenue.