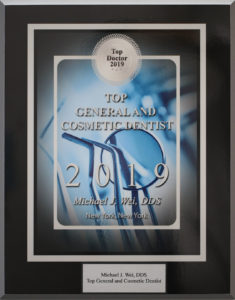 Dr. Michael J. Wei has been awarded the title of Top General and Cosmetic Dentist from the Top Doctor organization, which honors professionals at the top of their field. "I am extremely happy and privileged to receive this distinction," Dr. Wei said. "I am committed to providing my patients with life-changing smile makeovers and am pleased to be recognized in my field. I share this award with my entire team."
Offerings of a Top Doctor
Dr. Wei is well-known among his Midtown peers and patients as an experienced, skilled, and compassionate dentist. He is concerned with beautifying smiles, but also with ensuring that they are healthy. His goal is to give his patients strong smiles they can be proud of, so their lives can be enriched by the confidence they glean from beautiful, white teeth.
Dr. Wei's services include:
General dentistry: Preventive dentistry is the most important dentistry. Caring for your teeth and gums keeps is an essential part of good health. These services also include TMJ therapy, customized mouthguards, gum disease treatment, and tooth extractions.
Cosmetic dentistry: The smile upgrades you want often come courtesy of the procedures that fall under the category of cosmetic dentistry. Porcelain veneers, Lumineers, prepless veneers, teeth whitening, tooth bonding, laser gum recontouring, and more are all possible options for patients' unique smile makeovers.
Restorative dentistry: When your smile needs to be rebuilt, Dr. Wei uses procedures like porcelain crowns and bridges, dental implants, full-mouth reconstruction, inlays and onlays, root canal therapy, and tooth-colored fillings to make your smile healthy and beautiful.
Sedation dentistry: For the severely anxious dental patients, or for those undergoing multiple procedures at one time, sedation dentistry makes it possible for you to relax and be calm while you're in the dentist's chair.
Specialized Services from NYC Dentist
Dr. Wei also offers specialized services unique to his practice like virtual consultations. Through Smile Virtual, patients or potential patients can upload selfies of their teeth, explain what's bothering them about their smile, and, in a few days, receive a personalized video message from Dr. Wei outlining the most logical course of action. This is the opportunity to learn more about what's possible for your smile without having to make an appointment or visit the dentist first. Smile Virtual gives you time to think over your options before you schedule an appointment to get into the details and get things started.
Smile design technology is also beloved by Dr. Wei's patients. This bit of software takes a patient's photo and alters it to show just how the person would look with a porcelain veneers smile makeover, or teeth whitening, or dental implants, or Invisalign. You get to take home copies of the "new" you to share with friends, to study, and to help you decide whether you're ready to take the plunge and get those beautiful teeth you've always wanted.
Dr. Wei always puts his patients first, which is why he offers the convenience of services like Smile Virtual and smile design, which is why he has a comprehensive menu of dental care available, which is why he regularly enhances his own resume with continuing education classes and workshops.
Give yourself the gift of seeing a top dentist in Manhattan. Schedule your appointment with NYC cosmetic dentist Dr. Michael J. Wei or request a Smile Virtual consultation.