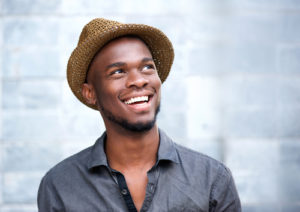 There are many elements that go into creating a perfect smile. What equals perfection for one person, though, doesn't necessarily equal perfection for another. When your Manhattan cosmetic dentist is presenting you with all the possible treatments for your smile makeover, he will consider several characteristics to form the perfect smile for you.
A Perfect Smile Reflects Your Age (or Younger!)
One of the biggest perks people who get cosmetic dentistry quickly realize is that their smile makeover has made them look younger. Procedures like porcelain veneers, for example, can bump out the lips because of how the veneers sit on the teeth. This can give the illusion of plumper lips, a major plus for people who are reaching an age when collagen is disappearing from their skin.
No matter what procedure you get, if your teeth are whiter, straighter, or more beautiful in any way, you'll be happier to smile more, and smiling and brightness automatically take years off your age and appearance.
A Perfect Smile Suits Your Preferred Gender
Cosmetic dentistry is not about equality, it's about what works best for you. Your preferred gender is considered when it comes to a smile makeover. In general, teeth that are more rounded are considered softer and feminine. Flatter, square-shaped teeth are considered more masculine.
Your smile can be developed so the feminine and masculine elements are combined or strictly stay in their own lane to give you the customized perfect smile that suits your gender, style, and personality.
The Right Color Makes a Perfect Smile
People want white teeth. They think white teeth will change everything. White teeth will indeed make an impression, but "white" has more than one definition. In fact, the color white, when it comes to teeth, can be as varied as the colors of a "white" wedding dress. There is off-white, candlelight, and on and on. You want a NYC cosmetic dentist who will help you land on the most flattering white for your smile and skin tone, particularly when you're getting porcelain veneers. Bright white isn't the best option for everyone.
If you just want whiter teeth without a major investment in cosmetic dentistry, the powerful bleaching agents in a professional teeth whitening treatment will make your tooth enamel as white as it's ever going to be.
Complementary Shape and Size Contribute to the Perfect Smile
People who have small teeth or long teeth are at the mercy of their genetics, but these characteristics can be adjusted with solutions like porcelain veneers. To get the "right" size teeth, you don't want them all to be identical. Then you'd have a chiclet smile that would look odd and draw the wrong kind of attention.
Size is relative to a person's mouth but, ultimately, the goal is to create a mouth full of teeth that look natural and appropriate for your face shape, size, jaw, and more.
Get a Smile That's Perfect for You
Your perfect smile is waiting for you, and so is the professional who's prepared to create that smile for you. Schedule an appointment with Dr. Michael J. Wei at his Midtown Manhattan dental office to discuss perfect smiles, smile makeovers, and everything in between.