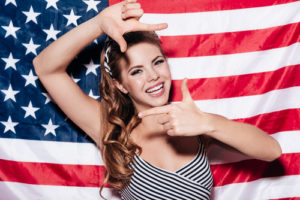 What do a smile makeover and freedom have to do with each other? If you're someone who's embarrassed by their teeth, you know you feel like a captive, penned in by the way your smile (or lack thereof) has limited you socially, personally, and professionally. Recapture your independence with the right NYC cosmetic dentistry procedures and restorative dentistry procedures for your smile.
Liberate Yourself from Your Smile
Plenty of New Yorkers flee Manhattan on the Fourth of July to enjoy a more laid-back and BBQ-friendly atmosphere elsewhere. Wherever you go, though, your teeth go with you, no matter what time of year it is or what holiday you're celebrating.
Even when you're relaxing among friends and family, you'll still feel self-conscious about your appearance if your teeth are unsightly. Someone might even ask when you're going to do something about fixing your teeth. If you want your smile to shine bright, you may be a good candidate for porcelain veneers, the cosmetic dentistry procedure that revitalizes every cosmetic complaint about your smile in one move.
Dig Into Your Independence
Nathan's Famous Hot Dog Eating Contest has been a Fourth of July tradition on Coney Island since 1972. No one, however, is stuffing their mouths with frankfurters when their teeth are aching, whether you're among this event's 30,000+ spectators or getting into the spirit of the holiday elsewhere.
You won't be able to chomp into your own hot dog, hamburger, veggie burger, corn on the cob, or whatever your favorite Fourth fare is when your teeth are broken-down. If you're worried about tooth pain, gum pain, wobbly teeth, or damaged teeth, the only solutions are dental restorations.
Porcelain crowns stabilize damaged teeth. Dental implants replace missing teeth. Gum disease therapy addresses swollen and inflamed gums. There is, in fact, a procedure to correct every oral health problem you're experiencing – free yourself from your dental discomfort.
Celebrate Yourself
If you're going dressy casual for a July 4 brunch, completely laid back for an afternoon get-together, or dressing to the nines for a more sophisticated celebration, your best accessory is your smile. When your teeth are far from perfect, however, you will feel exposed and like a spotlight is shining on you in the worst way. Ladies who love the idea of a red lip as part of their Fourth of July regalia will shy away from drawing attention to their mouth.
You can't hide obvious flaws forever. Eventually, a smile is going to squeak out, you'll have something to say, you'll want to laugh hard. Shouldn't you be able to do all those things with confidence, knowing your teeth are serving you well?
Fix Your Smile for True Freedom
No matter how or where you celebrate your favorite holidays, they're always 10 times better when you're feeling good about yourself and how you look. Find out what smile makeover is right for you. Schedule your appointment with Dr. Michael J. Wei at his dental office on Madison Avenue in Midtown to talk about your smile independence.