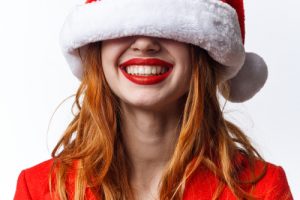 You don't need a holiday to treat yourself. While this is an excellent time of year to give to others, allow yourself permission to take care of your own needs too. A perfect smile is an investment in your health, appearance, and self-worth. When you trust an experienced NYC cosmetic dentist, the perks of such a gift will keep you smiling for decades.
There is no such thing as perfection, but your Manhattan cosmetic dentist can get pretty close when it comes to your customized smile makeover.
Everyone has their own definition of a perfect smile. What's yours?
You can live with having a perfect smile only once in a while.
If you're not interested in an in-depth cosmetic dentistry procedure, but you want the benefits of a perfect smile from time to time, the Snap-On Smile might be just what you need. Personalized just like any aesthetic smile upgrade, the Snap-On Smile snaps onto your teeth and gives you a flawless smile.
You can revamp your smile for special events or photo ops or first impressions. This appliance isn't meant to be worn around the clock, but it's just right when you need to look the part.
You love your gapped or crooked teeth but just want them to be white.
This one is easy – professional teeth whitening. Immediately effective and long-lasting, the powerful bleaching agents in your dentist's whitening products will make your teeth multiple shades whiter. The brightness of your tooth enamel makes your entire smile brighter and happier, gaps and all.
You want your unsightly silver fillings to magically disappear.
Your NYC dentist isn't a magician, but he can certainly make those old amalgam fillings go away. Tooth-colored fillings look natural, so no one will know that you had tooth decay or needed other dental corrections.
White fillings made with composite are also better for your overall health. Silver fillings contain traces of mercury thaat are toxic. Plus, the fillings can expand and contract over time so they can potentially crack the tooth they're in and leech into the surrounding gums, making them look gray.
You want every part of your smile to be perfect.
When you want the complete smile makeover, the sure thing, choose porcelain veneers. As long as your teeth and gums are healthy and can serve as a strong foundation for your customized veneers, every cosmetic complaint can be wiped away.
Short teeth, long teeth, gummy teeth, crooked teeth, gapped teeth, stained teeth, chipped teeth – whatever your complaint, veneers cover it all and win the competition for most versatile cosmetic dentistry procedure. Every structural imperfection is cloaked and perfection is only a few appointments away.
Create Your Own Definition of a Perfect Smile
Gift yourself with a perfect smile and a personalized smile makeover created by Manhattan cosmetic dentist Dr. Michael J. Wei at his Madison Avenue office. Schedule your consultation today to talk about what you want from a smile makeover and what you hope to achieve. Don't be afraid to invest in yourself – a perfect smile is the gift that keeps on giving.