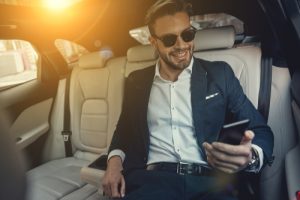 Everyone who lives in Manhattan has their own unique goals, but looking the part is the name of the game, whatever your demographic, career, status, or age. The good news is that there is a New York City smile makeover solution that will work with your schedule, budget, and gel with your ambition so you have the confidence to achieve whatever it is you're seeking.
You're an Actor
When you're an actor, it doesn't hurt to work your edge, preserve a little quirk, show off your character, go au naturel. For this reason, you may be reluctant to upgrade your smile for fear it will make you look inauthentic.
Certainly, for actors like Steve Buscemi with his less-than-perfect teeth or Anna Paquin with her gap-toothed smile, being different works. If your career is fledgling, however, it may be in your best interest to consider upgrading to a perfect smile. Sometimes all you need is a professional teeth-whitening or the repair of a few problem teeth to make your headshots look just right and land you on the stage, in the studio, or on set.
You're in the Arts
When you're a fine artist, it's all about how your work looks, how your art is created and perceived. However, selling yourself is about appearance too, even if you never visit a gallery that's housing your pieces.
You may not want to alter yourself in any way that makes you look like you don't match your art. Nevertheless, you also know how important presence is. Your smile can make all the difference when it comes to showcasing your very personal work.
You don't have to make a major change to make a major impact on your overall look. Tooth-colored fillings, a porcelain tooth crown, or cosmetic bonding can give you a boost – and you'll appreciate the fine art that is meticulously done cosmetic dentistry.
You're in Finance
Working on Wall Street, you have an image to uphold. Professionals need to look buttoned up, fierce, on fire, confident. A flawless smile is just as important as your wardrobe, education, and hunger for success.
Power brokers and the like are good candidates for porcelain veneers, the New York City smile makeover solution that corrects just about every cosmetic smile complaint you have, from misalignment to stains to short teeth to chips to cracks to gaps. If you want it all, get it all quickly with a customized smile upgrade that matches your unflappable image.
You're in Fashion
Whether you're a designer, model, or magazine editor, when you work in fashion in New York City, you're competing with plenty of other people for attention. You can't look too perfect or too spot-on. Yes, some of the trendsetters and decision-makers seek the new, the different, the unique, there are many more who want everything to be just right. Get the right smile and you can go from blending in to standing out.
If you know that different people want different things from you, a Snap-On Smile can be the best solution – you can choose to show off your natural smile, or you can add a little bit of smile perfection for a few hours or days, as needed. Impress everyone and feel good about yourself.
Achieve Your New York City Goals
The allure of New York City is that it accepts everyone. There are no outsiders, but inclusivity is still hard to come by depending on your field and career goals. Ultimately, this is Manhattan, the place where dreams are made or broken. Give yourself every advantage with a New York City smile makeover. Contact Dr. Michael J. Wei in his Midtown Manhattan office on Madison Avenue to schedule your appointment today.