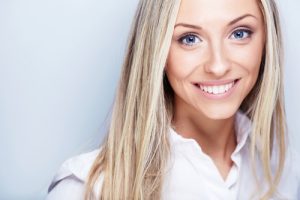 Porcelain veneers and prepless veneers are both cosmetic dentistry procedures that cover any aesthetic complaints a person may have about their teeth. More specifically, however, the preparation required for the application of the veneers is quite different. Prepless veneers may have a slight edge over porcelain veneers because they are less-invasive, and just as effective.
Similarities Between Porcelain Veneers and Prepless Veneers
Veneers can vary dramatically based on the quality of porcelain used to create them, the talent of the New York City cosmetic dentist applying them, and the preparation needed for the application of the veneers.
Prepless veneers are in demand because, per their name, they require little to no prep before the veneers are bonded permanently in place.
Porcelain veneers and prepless veneers are both:
Incredibly thin.
Constructed of super-strong porcelain.
Able to correct the same cosmetic issues, like misalignment, stains, chips, gaps, and more.
Natural-looking.
How Prepless Veneers Are Different from Porcelain Veneers
Some Midtown Manhattan dental patients are desperate for a perfect smile, but they drag their feet about pursuing porcelain veneers for one reason: They dread the prep for the procedure. To get teeth ready, a small amount of tooth enamel must be sanded away to make room for veneers to be bonded in place over natural teeth.
Prepless veneers, on the other hand, require only a light sanding and cleaning of the teeth to eliminate surface stains, minor imperfections, and shine. Once this step is complete, your customized prepless veneers can be put in place.
For both procedures, the goal is to make sure nothing interferes with the veneers in color, thickness, and size. Prepless veneers require even more meticulous care and an experienced hand to ensure that the shading of the personalized veneers is carefully selected to blend well with the natural tooth enamel underneath the veneers.
Why You Should Get Porcelain Veneers
When discerning NYC dental patients are in the market for veneers, they are ready to take care of multiple complaints about how their teeth look, and they want to do it all at one time. Veneers can simultaneously conceal:
Stains or discoloration.
Chips.
Surface cracks.
Gaps.
Short teeth.
Misalignment.
Worn enamel.
Oddly sized teeth.
You're not alone if you are looking for a way to beautify your smile. Porcelain veneers are the smile makeover of the stars. All those celebs and politicians and big names weren't born with perfect teeth. They found the best cosmetic dentist available to create their gorgeous, natural-looking, enviable smile. You can have the same.
In the hands of experienced porcelain veneer dentist Dr. Michael J. Wei, patients' lives are transformed with a new smile. It's time to find out whether you're a good candidate for prepless veneers. If you're an anxious dental patient and have always thought a gorgeous smile makeover was out of the question, this non-invasive method will give you hope – and the smile you've dreamed about.
Make your appointment with Dr. Wei at his Midtown Manhattan dental office on Madison Avenue.