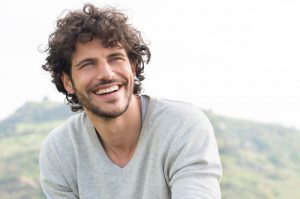 No dental treatment should make your mouth look unattractive. Restorative dentistry. Because the purpose of restorative dentistry is to repair problem teeth and return your teeth to fully functional, the aesthetic benefits are often overshadowed. However, done well by an experienced Midtown Manhattan cosmetic dentist, your tooth restorations will give you a smile that is durable and beautiful.
What Is Restorative Dentistry?
Restorative dentistry is used to repair damaged or problematic teeth, or complete a smile that is missing teeth. Because the focus of this arm of dentistry is on tooth repair, it's easy to overlook that tooth restorations also create a stunning smile. Cosmetic dentistry does not have the monopoly on gorgeous smile makeovers.
Here are just some of the procedures that can be sorted under the umbrella of restorative dentistry:
Dental implants.

Missing teeth? Dental implants fill in the holes in your smile, replacing the missing tooth root, stimulating the jawbone and creating a spot for a prosthetic tooth to be put in place. Not only does this tooth restoration help prevent your face from aging too soon, the implants are designed to blend with the rest of your teeth so they look completely natural.

Fixed dental bridge.

A fixed dental bridge is often the best choice when you are missing multiple teeth in one location. Bridging the gap between teeth means your smile is complete, plus the bridge and the porcelain crowns that anchor the bridge are shaded to look like your natural teeth.

Porcelain dental crowns.

Porcelain tooth crowns are one of the most versatile restorative dentistry solutions. Teeth that are broken, cracked, jagged, or misshapen can be remade with a dental crown. Customized in size, shape, and color, every crown is bonded permanently in place so that you don't have to worry about stability or about your misshapen tooth ever sticking out again.

Tooth-colored fillings.

If you are living with amalgam fillings, you already know that this kind of tooth repair has interrupted the look of your teeth and smile. The silver fillings are made with toxic mercury and they eventually start to turn your tooth and surrounding gum a greyish color. You can replace amalgam fillings with tooth-colored fillings, and any new decayed areas should always be treated with white fillings, so that your repaired teeth are healthy and look completely natural. No one will ever know that you had a cavity or other tooth problem.
Never Fear a Tooth Restoration
Ultimately, restorative dentistry fixes your oral health problem while beautifying your smile at the same time.
Even if you find yourself in need of root canal therapy, you will walk away with a natural-looking dental crown that covers the problem tooth (which is no longer causing you pain).
Even if you are facing dentures, don't despair. Modern dentures are no longer the dentures of decades ago. Innovative versions are more comfortable and, more importantly, look like natural teeth. Dentures are often combined with dental implants to create one of the most secure smile makeovers.
Your smile is unique, and it should be as beautiful as it can be. If you have problems with your teeth or gums, be proactive and get them treated. If restorative dentistry is necessary, that's a good thing – it means your teeth will be repaired, discomfort will be gone, and you'll be left with a smile that you love.
Find out what kind of restorative dentistry smile makeover is right for your oral health needs. Schedule your consultation with Dr. Michael J. Wei, Midtown Manhattan cosmetic dentist.