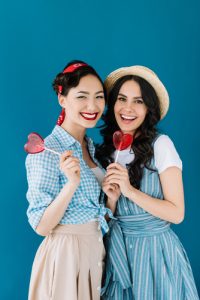 About 58 billion pounds of chocolate will be purchased during the week of Valentine's Day. About 8 billion Sweethearts Conversation Hearts are produced annually. Excessive? Definitely. Nevertheless, Valentine's Day is about spoiling the one you love, and indulging in the things you love, whether you are happily partnered up or single. Now, what does this have to do with your oral health? When it comes to teeth and gums, it's important to know just what kind of smile havoc could be reaped by Valentine's Day candy.
Valentine's Day Candy Can Haunt Your Oral Health
Just like Halloween, Valentine's Day candy hits the shelves early. In many cases, Christmas isn't even over yet and those pink and red candy wrappers are taking center stage at the grocery store. Candy is available all year long, but there is something about candy associated with a holiday that makes it seem special, and implies that it needs to be consumed in large quantities before it's gone.
While there is nothing wrong with getting your candy on – though your waistline may say otherwise – it's the prolonging of the candy-eating that is the problem. Nibbling on a box of conversation hearts all through the day might seem like an innocent little treat. In reality, your teeth are getting all kinds of lingering kisses from sugar and bacteria. This is the kind of behavior that leads to tooth decay, especially if you aren't getting regular dental checkups from your New York City dentist, or brushing and flossing every day.
Best Practices for Eating Valentine's Day Candy
For every stage of love and relationships, there are smart ways to dig into the sweetness that this one overcharged holiday offers:
If you've been together for a while: Valentine's Day may be less of an exciting holiday for you if your relationship has some longevity, and if you have kids. You might be at the point in your pairing where you can dictate just how you want the holiday to go – so make a request for a little less candy and few more kisses instead.
If you've just started dating: If you landed a sweetheart who knows your sweet tooth and bought you your favorite Valentine's Day candy, you may want to prove your love by finishing off every bite. Don't let sentimentality get in the way of your oral health. Remember to take care of your teeth too, even if you're blinded by love!
If you're single and happy: Digging into Valentine's Day candy because you've bought it for yourself is a super-sweet feeling. It may even feel great to indulge and then work off the candy at the gym. Just don't forget to work off a few extra calories with a thorough flossing and brushing.
If you're single and bitter: You may be tempted to drown your sorrows in a giant box of chocolate candy. You're entitled. (Try not to go overboard.) The good news: Chocolate is one of the "best" candies for your teeth because it doesn't cling to your teeth like other kinds of sugary sweets (you still have to clean your teeth though). Also a plus: When you're feeling blue and angry about love and have turned to chocolate for solace, you're more likely to eat it all in one sitting, and that's way better for your teeth than eating candy all day long.
Whether you give your sweet tooth everything it wants on Valentine's Day or even all year long, always keep your oral health at the front of your mind. Take care of your teeth so they can love you back (and help others love you). Contact Dr. Michael J. Wei in Midtown Manhattan to schedule your oral health evaluation, checkup, or consultation for cosmetic dentistry.