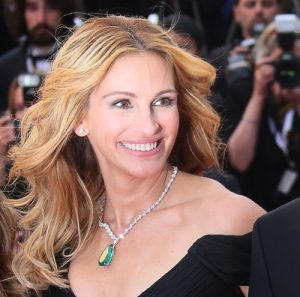 Our culture gets style, fashion, and beauty cues from celebrities. If someone's face is in the news or on the big or small screen regularly, you can't help but notice their appearance. In most cases, the teeth that celebs sport are flawless. The secret you need to know is that many of these actors, performers, and journalists were not born with their perfect teeth. They have had plenty of help to look their best, thanks to cosmetic dentistry.
Whether you pass them on a block in Midtown Manhattan or watch them perform from the comfort of your couch, here are some of the most in-demand celeb smiles.
Denzel Washington
Denzel Washington hasn't always had such a stellar smile. In fact, before he made a name for himself on the big screen, Denzel was immortalized on the small screen, gapped and crooked teeth and all. It's likely that porcelain veneers have given him the amazing smile he has now. No doubt that grin has had as much of a hand in his success as his acting prowess.
Julia Roberts
It doesn't matter how long she's been famous, Julia Roberts' smile will always be one for the ages. Julia's memorable smile matches the attention her vivacious laugh demands. It seems that perhaps she's had these teeth forever. Photos of young Julia will show serious gaps between all her teeth but, presumably, a set of braces later, she had her gorgeous smile. The nice thing about Julia's smile is that it looks flawless, even though it isn't, and the unique shape of her lips help highlight one of her most notable features.
Sofia Vergara
Before she became such a big name, Sofia Vergara smiled far more demurely. Maybe she was covering up imperfect teeth, maybe her confidence wasn't quite what it is now, but today's version of Sofia is one with a gorgeous smile that she isn't afraid to reveal and that people never forget. Veneers or Lumineers are likely behind Sofia's smile, but they're so well done and Sofia is so pulled together that it's hard to imagine her as anything but flawless.
Idris Elba
It's difficult to Google-search your way to an old picture of Idris Elba. The images you find of him flashing a smile now features those white, straight teeth front and center. His teeth are so nice, in fact, that it's hard to believe they could be natural. Nothing wrong with a smile makeover that makes you look better, younger, more handsome, stronger, and more capable.
Kate Middleton
Kate Middleton, the Duchess of Cambridge, has a smile that outshines the rest of the British Royal Family. It looks natural, though some news outlets claim Kate sought out treatment that uses hidden braces to shift the teeth into "harmonious asymmetry." The truth of this is unconfirmed, but Duchess Kate's teeth are beautifully white, which may indicate professional teeth whitening. No matter how she's had her teeth tended to, Kate certainly destroys the notion that Brits have bad teeth.
Meghan Markle
The soon-to-be royal Meghan Markle, engaged to Prince Harry, has been making waves for her beauty and fashion sense, but it's also her amazing smile that's so engaging. Old photos of Meghan during adolescence will show gapped front teeth, but that smile has improved tenfold over the years. It would seem she may have gotten porcelain veneers or Lumineers to achieve perfection. Either way, it's a winning smile, and one worthy of a crown.
The Common Denominator
What all these celeb smiles have in common is the way most of them were likely achieved – porcelain veneers or Lumineers. Veneers are versatile, long-lasting, and durable. They make your smile look amazing and they make your teeth stronger. Veneers are a cosmetic dentistry procedure that can cover up multiple flaws at once, which is why celebs and so many people in Midtown Manhattan choose them as their smile makeover of choice.
Contact Dr. Michael J. Wei to make an appointment and discuss the celeb smile you most admire, and whether a smile like that is possible for you. (It is!)