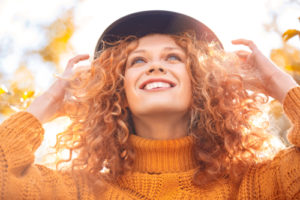 It should come as no surprise that porcelain veneers were invented in Hollywood. A dentist by the name of Charles Pincus developed them in 1928 for a film shoot to temporarily change the appearance of the actors' teeth. Dentistry has come a long way since then, thank goodness. Modern cosmetic dentistry makes it possible for you to have a celeb-worthy smile that looks natural, feels good, and lasts for decades.
1. They don't require adhesive.
About 10 years after he invented the first set of veneers, Pincus fabricated acrylic veneers – that stayed in place with denture adhesive. Better than the temporary veneers, but still not ideal. It wasn't until 1959 that another dentist investigated bonding porcelain veneers to etched enamel – permanently.
The modern bonding agents and cements used to adhere today's veneers to teeth are incredibly strong and durable. The bonding the veneers can last for decades, especially if you take good care of your teeth and see your dentist twice a year for cleanings and check-ups.
2. They're customized.
Modern veneers are an investment and a work of art. Each patient's veneers are uniquely designed and suited to them, just right in size, shape, and color so they flatter and blend in. Age, gender, and even the whites of your eyes are all characteristics that are also taken into consideration as your veneers are being fabricated.
3. They look natural.
Since we're already referencing Hollywood, you can probably think of a handful of stars who have porcelain veneers that, well, aren't so flattering. They're too big or chunky or just look fake (e.g., Gary Busey).
Then there are stars who have veneers that are so flawlessly done you might assume they were born with some excellent dental DNA, with a professional teeth whitening thrown in for good measure. That's how veneers are supposed to look – natural. Like you were born with them. Modern veneers, done well by an experienced Midtown cosmetic dentist, should always look that way.
4. They don't stain.
Porcelain is a super-resilient material resistant to staining. That isn't to say that you should go hog wild on the coffee or red wine or dark sauces and think it's ok to skip brushing and flossing – it's not ok. However, your veneers should remain as brilliantly white and gleaming as they were on the day you got them with basic upkeep.
5. You have options.
Porcelain veneers, Lumineers, microthin veneers, composite veneers, prepless veneers – there are many different types of veneers available, depending on your budget, preferences, oral health, dental anxiety, and dentist's offerings.
Some veneers require the removal of tooth enamel to make room for the porcelain shield. Other cosmetic upgrades in this category require little to no prep, merely a cleaning and sanding of the teeth. Ultimately, you want to select a NYC dentist who is prepared to create the smile you want in the way you want it.
Schedule an appointment with Dr. Michael J. Wei today at his dental office in Midtown Manhattan to find out what type of veneer is right for your smile makeover. You can look like a Hollywood star of then and now and always be in style with customized veneers.