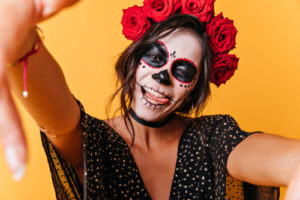 Young or old, Halloween is an excellent opportunity to dress up and become someone else for a little while. If you're trying to distract from your teeth by applying an entire face of Halloween makeup or a strategically designed mask, however, it may be time to consider how you look every other day of the year and think about making a permanent change with a customized smile makeover.
See the New You
Are you someone who likes to try before you buy? A program like digital smile design is just right for you. With this sophisticated software, you can visualize what your new smile will look like – actually see an image of yourself with your new teeth. It's even possible to view multiple options for improving your smile, like if you're trying to decide between two different procedures.
One of the best things about digital smile design is that people can take their customized images with them and share their potential smile makeovers with friends and family. You will have time to look over your photos and think about what's best and solicit input from the people you trust. You'll be confident in your decision and excited to bring it to fruition when the time is right.
A Cosmetic Dentistry Consultation on Your Time
Don't have time to go to the dentist to talk shop? Want to know before you go what's possible for your smile makeover? Submit your info for a smile virtual consultation with your Midtown cosmetic dentist. Upload a smile selfie, describe what you dislike about your smile and what you hope to achieve, wait a day or two for your personalized consultation video from your dentist.
You'll find out whether you're a better candidate for cosmetic tooth bonding or teeth whitening, whether Invisalign or porcelain veneers are the best way to straighten your smile, whether you need full-mouth reconstruction or just a few strategic dental restorations. Whatever your concerns or questions, voice them and find out everything you need to know about your smile makeover.
New Offerings from Midtown Cosmetic Dentist
Maybe you've been waiting for just the right procedure to finally say go on your smile makeover. Microthin veneers may be just that treatment.
As strong, durable, and natural-looking as traditional porcelain veneers, Microthin veneers are made of incredibly thin porcelain. Because the porcelain is so slim, there is no need for tooth enamel to be shaved off to make room for the veneers. This is a relief to the patients who fear altering their teeth in any way, even if they never plan to reverse the cosmetic dentistry they undergo.
Even more important than selecting the right dental procedure is choosing the right dentist to complete your smile makeover. Schedule an in-person consultation or submit a video consultation with Dr. Michael J. Wei at his Midtown Manhattan dental office on Madison Avenue. Dr. Wei is certified to perform smile makeovers using Microthin and DURAthin veneers, a unique classification that requires a great degree of technical skill and experience.